How to make a chocolate cream filled cupcake.
by Ishayah Wainscoat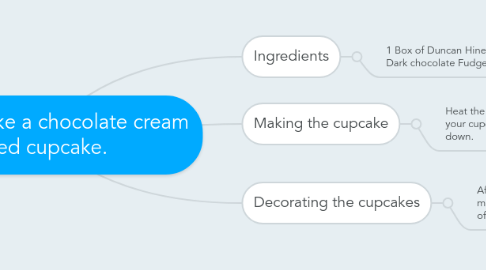 1. Ingredients
1.1. 1 Box of Duncan Hines Classic Dark chocolate Fudge
1.1.1. 1 cup water
1.1.1.1. ⅓ Cup Vegetable Oil
1.1.1.1.1. 3 eggs
2. Making the cupcake
2.1. Heat the oven to 350 degree. Take your cupcake pan and spray them down.
2.1.1. In a small bowl mix the water, oil and eggs together.
2.1.1.1. In another bowl put the cake mix.
2.1.1.1.1. Take the bowl with cake mix and start to pour the liquid into it slowly while mixing.
3. Decorating the cupcakes
3.1. After making sure they are cool off. In a bowl mix a cup of the Marshmallow cream and a cup of the icing.
3.1.1. Poke holes in the center of the cupcakes where you will fill the filling in them.
3.1.1.1. After the holes fill each hole with the marshmallow mixture.
3.1.1.1.1. decorate the top with the left over icing