PHY111 Sum '10 Josh Brindley
by
Josh Brindley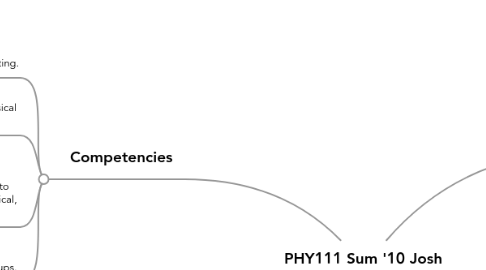 0.0
stars - reviews range from
0
to
5
PHY111 Sum '10 Josh Brindley
Outline
Linear motion
motion diagram
position vs. time graph
velocity vs. time, P(f)=P(i)+V*t, V(f)=V(i)+a*t
Non-linear Motion
vpython
range equation
circular motion
Forces and Momentum
newtons 3rd law
Work, Energy Storage and Transfer
the launch, Potential -> kenetic
energy bar graphs
hookes law
Competencies
Effectively communicate qualitative and quantitative information orally and in writing.
Projects 1, 2, and 3
Explain the application of fundamental physical principles to various physical phenomena.
Physics isn't real
Physics explains natural phenomena
Apply appropriate problem-solving techniques to practical and meaningful problems using graphical, mathematical, and written modeling tools.
Mello launcher, Catapault, Sling shot
colt 44
Work effectively in collaborative groups.
project 1,2 and 3