Book Summary: Just Listen by Mark Goulston
by
Bill Reichle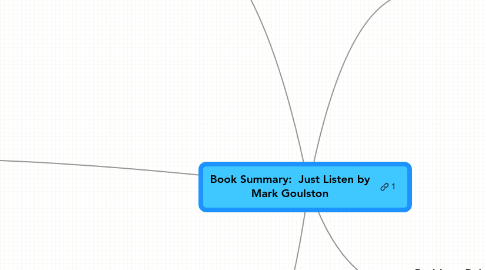 4.7
stars -
4
reviews range from
0
to
5
Work Situations
Gain Trust (when they don't feel trusting)
Example: Lawyer mom is single mom. The firm works her to death. Her boss says, "I bet you you always feel like you are letting someone down - either you child or your workplace. Must be really hard to do both". This allows her to feel that someone understands and makes her look at the boss differently. Maybe he DOES understand and is not one of the "bad guys".
Toxic environment
I need to create a good first impression
Sales/Selling
Multiple people not communicating
Book Summary & Brain Science
Twitter Version
How to hear, listen, and influence/persuade. How to "Get through" and diffuse volatile human communication situations.
Tumblr Version
From Publishers Weekly: Goulston (Get Out of Your Own Way at Work) returns with a primer on dealing with hard-to-reach people in virtually every scenario—defiant executives, angry employees, families in turmoil, warring couples—through use of well-honed psychological techniques. Negotiating intractable situations is like driving up a steep hill, he posits, but most of us make the mistake of creating more resistance by shifting up; downshift, and you get control, he writes. His Persuasion Cycle filters illustrative snippets from counseling sessions during which he digs into an impressive bag of tricks—Magic Paradox, Impossibility Question, Empathy Jolt—techniques like martial arts moves: potent on their own, but even more powerful when you combine them. His successful persuasion case studies include negotiating a police standoff and assisting a married couple's conflict resolution. Chapter summaries feature action steps preparing readers to encounter similar scenarios, yielding a guide that is as entertaining as it is useful.
When Book tips won't work
Category of techniques Used
Caveats
The Persuasion Cycle
Brain Science
Common Communication Problems
Problem: Relating to others
They're in Crisis
They're annoying
They could use some motivation
Problem: Improving myself
I'm in Crisis Mode
I make same mistakes over and over!?!
I'm not seeing the real "cause" of the problem
I'm Nervous/Humiliated/ with Elephant in the room
General behavior improvement
I Fucked up