How Digital Tools Help Increase Academic Success for the Adult Learner
by Edward Thiroux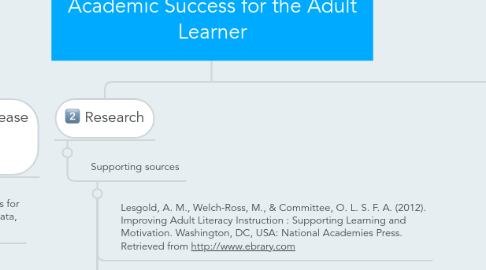 1. How can digital tools help increase academic success for the adult learner?
1.1. Digital tools help increase academic success for adult learners by improving performance, data, and added a wide range of resources.
1.2. Using the available digital resources will benefit adult learners.
1.3. Provide data for adult learners using digital tools vs. adult learners without digital tools.
1.3.1. Inspire someone about your topic?
1.3.2. Specific grade?
1.3.3. Do your best work?
2. Research
2.1. Supporting sources
2.1.1. Lesgold, A. M., Welch-Ross, M., & Committee, O. L. S. F. A. (2012). Improving Adult Literacy Instruction : Supporting Learning and Motivation. Washington, DC, USA: National Academies Press. Retrieved from http://www.ebrary.com
2.1.2. WGBH News, June 4 2014, Greater Boston Video: How Digital-Learning Devices Are Transforming The Classroom. https://youtu.be/c9CarM6_Bcg
2.1.3. Hewitt, P. (2014 Sep 5) Setting the Stage for Digital Engagement: A Five-Step Approach http://www.educause.edu/ero/article/setting-stage-digital-engagement-five-step-approach
2.1.3.1. Books
2.1.3.2. News sources
2.1.3.3. Blogs
2.1.3.4. Supporting Data
2.1.3.4.1. Expert reports
2.1.3.4.2. Third party research
2.1.3.4.3. Survey data
2.1.3.4.4. Size of topic
2.1.4. Harrington, K. (2014) From Tablet to Tablet, from Mesopotamia to Galway. Adult Learner (0790-8040)(JM "Adult Learner (090-8040")pages 94-102
2.1.5. Sprenger, M. (2010) Brain-based Teaching :) in the digital age. Association of Supervision and Curriculum Development City and State of Publication: Alexandria, VA
3. Structure
3.1. Title Page
3.1.1. Title of Project
3.1.1.1. How Digital Tools Help Increase Academic Success for the Adult Learner
3.1.2. Student Name
3.1.2.1. Edward Thomas Thiroux
3.1.3. Course/Name Section
3.1.3.1. College 100
3.1.4. University Name
3.1.4.1. American Public University System
3.1.5. Professor's Name
3.1.5.1. Janet Felder
3.2. Outline
3.2.1. Thesis
3.2.1.1. Although digital applications can be hard for some adult learners, digital tools are a great resource to help increase academic success. To have so many options at your fingertips, built specifically to help learners at any age, can only give an advantage to the student.
3.3. Body
3.3.1. Perks of using digital tools over traditional methods
3.3.2. Adult learners' effectiveness
3.3.3. Byproduct of digital tools
3.3.4. Availability of digital tools
3.3.5. Life of an adult
3.4. Visual, Audio, Animated components
3.4.1. Introduction - why are you writing about this?
3.4.2. Subhead 1
3.4.3. Subhead 2
3.4.4. Subhead 3
3.4.5. Conclusion - what summarizes what is most interesting about your topic?
3.5. Conclusion