Back to Public Maps
Boo Radley
Boo Radley
by Maddy Jackson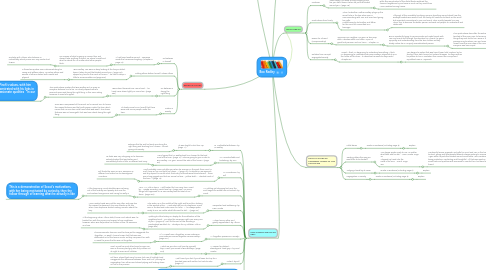 1. BELIEFS & vALUES
1.1. He believes in himself
1.1.1. "I had heard another sound… someone inside the house was laughing" (Chapter 4, page 44)
1.1.1.1. He is aware of what is going on around him and doesn't take anything to heart, He values himself and what he stands for, no matter what other people think.
1.1.1.1.1. Similarly, with Atticus, who believes in individuality, which proves as a very similar trait to Boo
1.2. Putting others before himself- values others
1.2.1. "Boo Radley. You were so busy looking at the fire you didn't know it when he put the blanket around you." (page 78) I slipped my hand in the crook of his arm… he had to stoop a little to accommodate me"(page 304)
1.2.1.1. In these two quotes, Boo is demonstrating his caring and selfless nature. He values others and worries of other's states, both mental and physical
1.3. He believes in doing the right thing
1.3.1. "Boo's hand hovered over Jem's head… his hand came down lightly on Jem's hair" (page 304)
1.3.1.1. This quote shows readers that Boo Radley isn't as scary as everyone believes him to be. He clearly respects other's personal space and doing the right thing, in this case, aiding someone in need of support
1.3.1.1.1. This quality, is very similar to Atticus Finch's values, with him having a sense of justice, clearly demonstrated with his links in the Tom Robinson case and his compassionate qualities "In our courts, all men are created equal."
1.4. Justice in society
1.4.1. "it slowly came to me (Scout) that there were now FOUR people under the tree"
1.4.1.1. Since Boo, was present at this event, as he carried Jem to house, this means that Boo was the fourth person under the tree, which means that no one else could have killed Bob Ewell. This shows that Boo was not revengeful, but was keen about doing the right thing.
2. ACTS LIKE
2.1. Quality
2.1.1. Quote or Evidence (Including Page #)
2.1.1.1. Explain
2.2. Quality
2.2.1. Quote or Evidence (Including Page #)
2.2.1.1. Explain
2.3. Quality
2.3.1. Quote or Evidence (Including Page #)
2.3.1.1. Explain
3. MOTIVATED BY
3.1. Kindness
3.1.1. "Boo Radley. You were so busy looking at the fire you didn't know it when he put the blanket around you." (page 78)
3.1.1.1. Displays this value through wrapping the blanket around Scout, while she was shocked in the street as she watched the firemen/neighbours try and save as much as they could from Miss Maudie's burning house.
3.2. Harsh abuse from family
3.2.1. When his brother, Nathan Radley, plugs up the secret hole in the tree when Boo is communicating with Jem and Scout and giving him gifts. Locked away by his brother and father for the crime he committed as a teenager.
3.2.1.1. Although all the incredibly horrifying rumours travelling around about how the Radley's treated Boo weren't true, his family still continue to block out his small but important connections to Jem and Scout. Their cruelty towards him may 'drive' him to become the better person and seek out people to understand and relate with.
3.3. Desire for a friend (companionship)
3.3.1. "Boo was our neighbor. He gave us two soap dolls, a broken watch and chain, a pair of good-luck pennies, and our lives." - Chapter 31.
3.3.1.1. Boo is constantly trying to communicate and make friends with Jem and Scout and through this devotion for a friend, he gains sympathy and understanding from the two children as they slowly realise he is a majorly misunderstood person.
3.3.1.1.1. This quote shows how after the entire length of the novel, Jem and Scout went from being terrified of this poor man, to becoming his neighbour. They realise that all the mean and harsh things they ever did to him, were in the end horrible things to do as Boo is a person himself. This passage may be where Jem and Scout learn their most valuable lesson (but at the same time this 'lesson' was the main idea of the novel and was presented all throughout TKAM), to remember everyone was born equal.
3.4. Isolation from corrupt, segregated society
3.4.1. "Scout, I think I'm beginning to understand something. I think I'm beginning to understand why Boo Radley's stayed shut up in the house all this time... it's because he wants to stay inside." -Chapter 23.
3.4.1.1. Jem begins to realise that Boo hasn't been held 'captive' by his family in their dark house, but instead chooses to stay inside as he prefers to live in insolation than around the corrupt and unjustified men in Maycomb.
4. HOW OTHERS SEE HIM OR HER...
4.1. As "malleable/withdrawn" by Mr Radley
4.1.1. "It was alright to shut him up" (page 11)
4.1.1.1. Believes that he and his family are doing the right thing and teaching him a lesson - almost giving into society
4.2. As "uncontrollable and tantalising" by Jem
4.2.1. "Jem figured that Mr Radley kept him chained to the bed most of the time" (page 12) "we are going to give a note to Boo Radley...I'm goin' around the side of the house." (page 50)
4.2.1.1. He finds Boo very intriguing as he has seen nobody treated that way before and immediately thinks of him as different and scary
4.3. As "monstrous" by Dill
4.3.1. "He'll probably come out after you when he sees you in the yard, then Scout 'n' me'll jump on him and hold him down…" (page 15) "he dined on raw squirrels and any squirrel he could catch, that's why his hands were blood stained… there was a long jagged scar that ran across his face… yellow teeth … drooled most of the time…"(page 13)
4.3.1.1. Dill thinks the same as Jem, sees Boo as different and refers him to stereotypical 'monsters'
4.4. As "chilling yet intriguing but near the end, begins to realise he's not so bad" by Scout
4.4.1. "Is B - Mr Arthur alive?" "I still looked for him every time I went by… maybe someday I would see him" (page 263) "So many things had happened to us, Boo Radley was the least of our fears." (page 264)
4.4.1.1. At the beginning, Scout identifies Boo as being out of the ordinary and spooky, but near the end realises how genuine and caring he really is
4.4.1.1.1. This is a demonstration of Scout's motivations, with her being motivated by curiosity, then the follow through of learning what he actually is like
4.5. "Respected and saddening" by Miss Maudie
4.5.1. "She woke up in the middle of the night and found him looking in the window at her… I said what did you do Stephanie, move over in the bed and make room for him?" "...he always spoke nicely to me, no matter what folks said he did…" (page 49)
4.5.1.1. Miss Maudie treats Boo just like any other and pays him the respect he deserves. She even stands up for him when Miss Stephanie started making rumours about the boy
4.6. "Valued as any other and greatly appreciated" by Atticus
4.6.1. "putting his life's history on display for the edification of the nieghbourhood… you stop this nonsense right now, every one of you." (page 53) "Well it'd be sort of like shooting a mockingbird wouldn't it?... Thankyou for my children Arthur" (page 302)
4.6.1.1. At the beginning, when Atticus didn;t know much about Boo, he treated him with the privacy and respect of any neighbour, however, when Boo helps save his children's lives, he sees Boo as a hero
4.7. "A forgotten presence in society"
4.7.1. "If Mr Ewell was a forgotten as Tom Robinson, Tom Robinson was as forgotten as Boo Radley" (page 271)
4.7.1.1. This was sarcastic humour, used to show just to exaggerate the 'forgotten' Mr Ewell. It was a known fact that Boo was obliterated out of the town's minds, so they compared him with Mr Ewell to prove that he was not forgotten
4.8. "A reason for distrust - stereotypical "bad guy"" by Cecil Jacobs
4.8.1. "What are you doin' out here by yourself, boy? Aren't you scared of Boo Radley?" (page 278)
4.8.1.1. Cecil, as well as most other boys his age, see Boo as the scary bad guy who only comes out at night to scare small children
4.9. "Pitied" by Dill
4.9.1. "Well how'd you feel if you'd been shut up for a hundred years with nothin' but cats to eat?" (page 51)
4.9.1.1. Dill here, almost feels sorry for Boo, but uses it highlight and exaggerate the difference between them and him - proving his segregation from others and almost pitying and looking down on him in the process
4.10. Like Boo, Scout is seen as something that needs improving, as shown by her Aunt Alexandra's continuous pestering regarding her appearance. "Aunt Alexandra was fanatical on the subject of my attire. I could not possibly hope to be a lady if I wore breeches; when I said I could do nothing in a dress, she said I wasn't supposed to be doing things that required pants. Aunt Alexandra's vision of my deportment involved playing with small stoves, tea sets, and wearing the Add-A-Pearl necklace she gave me when I was born; furthermore, I should be a ray of sunshine in my father's lonely life." - Page 88
5. LOOKS LIKE
5.1. Tall and skinny
5.1.1. "Boo was about six-and-a-half feet tall, judging from his tracks; he dined on raw squirrels… that's why his hands were blood-stained" (page 14)
5.1.1.1. Jem describes him almost as a monster, and because of his young age, he would exaggerate his description.
5.2. Pale and white
5.2.1. "Sickly white hands that had never seen the sun," (page 298)
5.2.1.1. This quote shows how boo is described almost like he's been seen for the first time. 'had never seen the sun' meaning that he hardly left the house. The many stories that circulated about happenings in the Radley house no one knew what was going on.
5.3. Sad
5.3.1. "his face was as white as his hands" "delicate indentations in his temples" "mouth was wide" "grey eyes"(page 294)
5.3.1.1. From this detail, we can see that he obviously hand;t seen much sun, and his presence is almost draining. His grey eyes suggest sadness
6. TEXTUAL ISSUES OR CONCERNS LINKED TO THIS CHARACTER
6.1. Child abuse
6.1.1. Quote or Evidence (Including Page #)
6.1.1.1. Explain
6.2. Treating others the way you would like to be treated
6.2.1. "He always spoke nicely to me, no matter what folks said he did" - Miss Maudie. Page 49. "Slipped my hand into the crook of his arm" - Scout. Page 304
6.2.1.1. Continually leaves 'presents' and gifts for Scout and Jem in the tree outside his house trying to be kind, giving and affectionate towards, always wishing to receive these traits in return. Again when he puts the blanket around Scout while Miss Maudie's house is burning down, being protective, comforting and thoughtful. All that Boo wants is to be treated with the exact same traits and qualities with someone to comfort him, be there for him and overall be his friend.
6.3. Judging a book by its cover
6.3.1. Quote or Evidence (Including Page #)
6.3.1.1. Explain
6.4. Segregation in society
6.4.1. Quote or Evidence (Including Page #)
6.4.1.1. Explain