The Four Agreements: A Practical Guide to Personal Freedom
by Cheri Hubert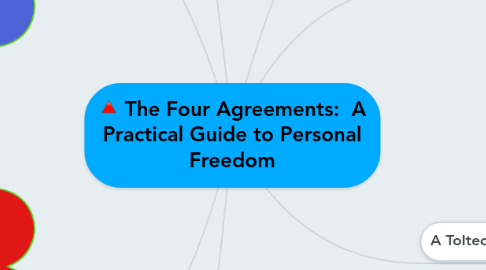 1. Author- Don Miguel Ruiz
1.1. a nagual from the Eagle Knight lineage
2. The Dream of the First Attention. The illusion of life made up of agreements that we've been conditioned to accept thru collective consciousness
2.1. mitote-All the voices speaking at once.
2.2. We are taught to please others and fear their judgement
2.2.1. We internalize this and become our own judge and victim
3. Be Impeccable with your Word.
3.1. Your words can be blessings or curses.
3.1.1. "A white magician uses the word for creation, giving, sharing, and loving."
3.2. Im-peccable = without sin
3.3. You attract what you put out.
4. Don't Take Anything Personally.
4.1. Others' opinions are just reflecting their own worldview illusion
4.2. Trust Yourself and choose your own beliefs
4.3. "You are never responsible for the actions of others; you are only responsible for you."
5. Don't Make Assumptions.
5.1. It is always better to ask questions than to make assumptions
5.1.1. Have the courage to ask for what you want.
5.2. Others think, feel, judge differently than you do
5.3. Don's assume you are right about anything
6. Always Do Your Best.
6.1. Your best is variable and can change over time.
6.2. Take action only because you love to.
6.3. Live in the present and enjoy.
6.4. Make every act a ritual honoring God.
7. A Toltec Wisdom Book 1
7.1. Mastery of Awareness
7.1.1. Aware of who we really are
7.1.2. Aware of possibilities
7.2. Mastery of Intent
7.2.1. Mastery of Love
7.2.1.1. Energy
7.2.1.2. God
7.2.1.3. unconditional love
7.3. Mastery of Transformation
7.3.1. How to change
7.3.1.1. change fear-based agreements
7.3.1.2. adopt alternative beliefs
7.3.1.3. practice the new agreements
7.3.2. Be free of domestication
7.3.2.1. Forgive those who have wronged you
7.3.2.2. Surrender to the angel of death
7.3.2.2.1. live as if it is your last day