COMMUNICATIVE COMPETENCE
by Dibri Selomit Girón de Franco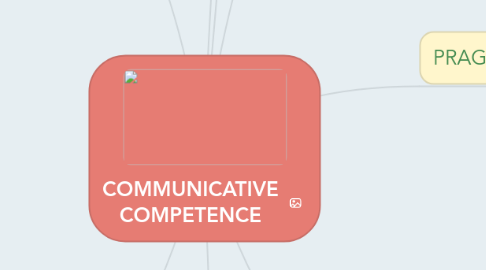 1. STYLES AND REGISTERS
1.1. Martin Joos' Classification of speech style of Formality criterion
1.1.1. Oratorical
1.1.2. Deliberative
1.1.3. Consultative
1.1.4. Casual
1.1.5. Intimate
1.2. Register
1.2.1. Commonly identified by certain phonological variants:
1.2.1.1. Vocabulary
1.2.1.2. Idioms
1.2.1.3. Expressions associated with occupational or socioeconomic groups
2. DEFINING COMMUNICATIVE COMPETENCE
2.1. Dell Hymes : Aspect of our competence that enables us to convey and interprets messages and to negotiate meanings interpersonally within specific context.
2.2. Savignon: It is relative not absolute, depends on the cooperation of all the participants involved.
2.3. James Cummins: Proposed a distinction between Cognitive Academic Language Proficiency (CALP) and Basic Interpersonal Communicative Skills (BICS).
2.3.1. CALP: Dimmension of Proficiency
2.3.2. BICS: Communicative Capacity
2.4. Michael Canale and Merril Swain: Four different components make up the construct of Communicative Competence.
2.4.1. Subcategories of Competence:
2.4.1.1. Grammatical Competence: Knowledge of lexical items.
2.4.1.2. Discourse Competence: Complement of grammar competence
2.4.1.3. Sociolinguistic Competence: Knowledge of sociocultural rules of language
2.4.1.4. Strategic Competence: Verbal and Nonverbal communicative strategies
3. LANGUAGE FUNCTIONS
3.1. Bachman Model
3.1.1. Illocutionary competence consists pf the ability to manipulate the functions of language.
3.2. Seven Functions
3.2.1. The Instrumental
3.2.2. The Regulatory
3.2.3. The Representational
3.2.4. The Interactional
3.2.5. The Personal
3.2.6. The Neuristic
3.2.7. The Imaginative
4. FUNCTIONAL SYLLABUS
4.1. Commomly known as "Curriculum"
4.2. Notional -Functional Syllabus
4.2.1. Notions refers to "Contexts" or "Situations"
4.2.2. Functional is defined as Language Functions.
4.2.3. Syllabus is quantitative and finite.
5. DISCOURSE ANALYSIS
5.1. It is the analysis of the relationship between forms and functions of language.
6. CONVERSATION ANALYSIS
6.1. Conversations are examples of interactive and interpersonal nature of communications.
6.2. They are cooperative ventures.
6.3. Rules of Conversation
6.3.1. Attention getting
6.3.2. Topic nomination
6.3.3. Topic development
6.3.4. Topic termination
6.4. Conversational "Maxims"
6.4.1. Quantity
6.4.2. Quality
6.4.3. Relevance
6.4.4. Manner
7. PRAGMATICS
7.1. Constraints on language comprehension and production.
7.1.1. Context
7.2. Language and Gender
7.2.1. Major Pragmatic factors affeting acquistion of communicative competence in language.
7.2.2. It is the effect of one's sex on both production and reception of language
8. NONVERBAL COMMUNICATION
8.1. Edward Hall called it "The Silent Language"
8.2. Aspects of Nonverbal Communications
8.2.1. Kinesics
8.2.2. Eye Contact
8.2.3. Proxemics
8.2.4. Artifacts
8.2.5. Kinethetics
8.2.6. Olfactory Dimensions