EndNote for NZLSG
by
Carolyn Upton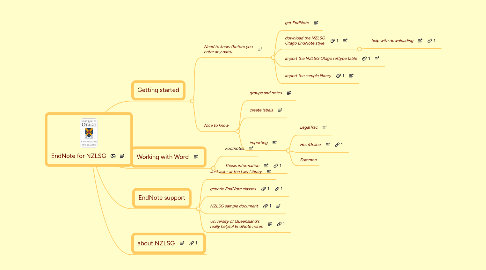 0.0
stars - reviews range from
0
to
5
EndNote for NZLSG
This is a work in progress. Feedback for improvements welcome - email me: carolyn.upton@otago.ac.nz
It's out there and has been adopted by the Law Faculty, so if you're a law student, use it. Available online, and also in print in the Law Library at K 100 NH3347. Rules for bibliographies are in Appendix 3.  
EndNote support
Just ask - at the Law Library
We're working on classes. In the meantime, talk to Carolyn - in the Law Library; ph 479-5653; or email: carolyn.upton@otago.ac.nz
NZLSG sample document
This sample document is based on records from the NZLSG quick reference library, chiefly so you can see what the footnotes and bibliography will look like. There are a few tips on data entry too.
This probably deserves a bit of explanation. John East, of the University of Queensland, has developed an elegant EndNote style that works for the Australian Guide to Legal Citation (AGLC3). We have modified his style to make it work for the NZLSG. He has also written some very useful notes on making it all work. We haven't done that yet. So in the meantime, we're relying on his notes to make sense of our EndNote. Clumsy, but better than nothing.
Working with Word
Several things to think about before you get too far in: Since NZLSG 2.2.1 specifies that you begin renumbering the footnotes at the start of each chapter, you might as well create each chapter as a new Word document and then create a separate bibliography for the whole thesis at the end. See the University of Queensland's really helpful EndNote notes for more detail on how to manage this.   NZLSG Appendix 3 specifies formatting styles. These are not mandatory but probably worth a look. At the same time, have a look at the Library's Thesis information pages, which include the Bindery's specifications.
Footnotes
see NZLSG 2.3.1(a)(iii) Use ibid only if referring to the footnote immediately above. Otherwise refer to the footnote number e.g.  "above, n4"   With Word you can link your footnotes so that the cross-reference will be accurate even if you subsequently change the number of the cited footnote. It goes a bit like this: Insert your footnote and type: Above n Click Cross-reference (on the Reference ribbon) From the Reference type menu, select: Footnote From the Insert Reference to menu, select: Footnote number From the For which footnote list, select the footnote you're linking the new note to Click Insert That will link those footnotes. If the footnote numbers change (e.g. you have inserted or removed footnotes) and you need to update the footnote references... Go to the footnote section of your document and then: Ctrl-A (to select all footnotes) and then click F9; and then click Yes to confirm that you do want Word to perform that action. All your footnote references should change to reflect the new numbering system, and the cross-references should still be goingto the right places.  
The Library's Thesis information pages include info about copyright, formatting, binding, electronic deposit.
Getting started
Need to know (before you enter any data)
These steps are critical to getting EndNote to work for the NZLSG. There are lots of other nice-to-know features that you can learn along the way, but master these ones at the outset (even though it may hurt a bit) and you'll thank yourself later.
Nice to know