What impact did the digital revolution have on learning and how is it going to shape the future of education?
by Jose Alvarez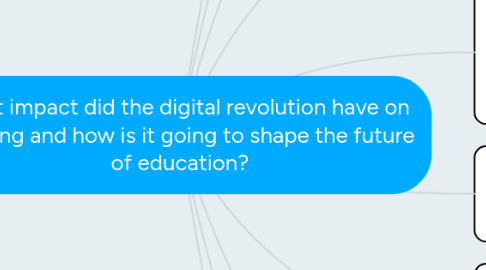 1. How did the digital revolution change education
1.1. digital natives
1.2. distance learning
2. What is learning?
2.1. how the acquisition of knowledge and skill are changing
2.2. teaching and academic work
3. What is education
3.1. How was our educational system devised
3.2. what was the purpose behind the development of public education?
4. Does Technology create a more proactive student
4.1. The digital divide
4.2. proactive students
5. Will technology in education prepare students for the future
5.1. digital culture and education
5.2. technology dependency
5.3. Public education reform
6. Generation Gap
6.1. Will the trend continue and the gap continue to shorten
6.2. How will educators mitigate the skills gap in an ever changing learning environment?
7. Technological influences
7.1. Student initiated learning
7.2. improved performance with technological resources
8. What is the digital revolution
8.1. How the digital revolution is accelerating education
8.2. What led to the digital revolution
9. Where is technology taking education
9.1. The ecology of education
9.2. The evolution of education technology
10. When did the digital revolution begin