Chap. 11 Payment Systems for Ecom
by
shawn kay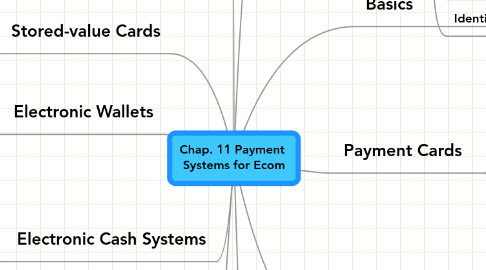 0.0
stars -
0
reviews range from
0
to
5
Chap. 11 Payment Systems for Ecom
Key Definitions
Scrip
Payment card
EMV standard
Open Loop System
Closed Loop System
Customer issuing banks
Merchant bank
Merchant Account
Chargeback
Payment processing service providers
Anonymous electronic cash
Identity theft
Online Payment Basics
Today there are four basic payment methods - Cash, Cheque, Debit Card, and Credit Cards account for more than 90% of all consumer payment in the USA. Credit cards are by far the most popular method that consumers use to pay for online purchases. 85% of purchases online use credit card, 95% in the United States, only 5% of all credit card transactions, accounts for 50% of all credit card fraud.
Payment Cards
The main categories of payment cards are credit cards, debit cards, and charge cards.
Advantages of Payment Cards
Disadvantages of Payment Cards
Payment Acceptance and Processing
General steps taken once the merchant receives a consumer's payment card info: 1. The merchant authenticates the payment card to ensure it is valid and not stolen. 2. The merchant than checks with the payment card issuer to ensure that credit of funds are available and puts a hold on the credit line or the funds needed to cover the charge. 3. Settlement occurs, usually a few days after the purchase, which means that funds travel between banks and are placed into the merchant's account.
Processing Pay- ments Online
Electronic Cash
A form of electronic payment that is anonymous and can be spent only once. Good for micro-payment (less than $1) and small payments (less than $10
Electronic Cash Continued
Advantages
Disadvantages
How Electronic Cash works
Electronic Cash Systems
CheckFree
Clickshare
PayPal
Electronic Wallets
A software utility that holds e-cash, credit card info, owner I.D., address info, and provides this data automatically at Ecom sites. Electronic wallets make shopping more efficient because consumers can just click their wallet to order items quickly.
Stored-value Cards
Either an elaborate smart card or a simple plastic card with a magnetic strip that records currency balance, such as a prepaid phone, copy, or bus card.
Threats to Pay- ment systems
Phishing