SOCIAL NET ONLINE COMMUNITIES
-
Scott Stawarz
Harper CE Tech Instructor
by
scott stawarz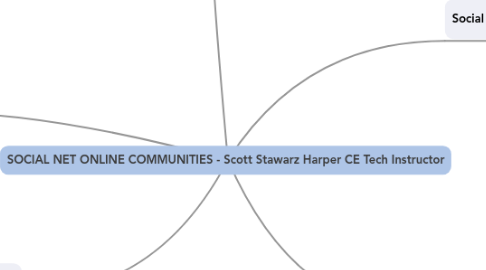 0.0
stars - reviews range from
0
to
5
SOCIAL NET ONLINE COMMUNITIES
-
Scott Stawarz
Harper CE Tech Instructor
Introduction
Who am I?
Scott Stawarz
Harper College CE Technology Instructor
Principal Instructor - Octāvity
Microsoft Certified Trainer - 10 years
Who are you?
Name
Job Title
Company
Expectations? Why are you here?
What is your current Facebook or Twitter Status?, What are you doing or thinking?
Tonight's Plan
6:00pm - 9:15pm
Goals for Tonight, intro social networking or social media, overview the major social media, facebook.com, linkedin.com, twitter.com
What is it?
Sites
linkedin.com
free
professional, pay version, more features
Online Resume
Get Recommendations or Make Recommendations of colleagues
See Business connections
Can update status
Next Actions, Build your online profile and only expose what you want., Begin to make Connections, Ask for Recommendations, Make Recommendations
twitter.com
#hashtags, keywords, identify a subject
http://search.twitter.com/, Look up your tags and identify the keywords you want to use., Find people to connect with.
@twitterhandle, Example:, http://twitter.com/harpercollege
Followers can be anyone.
Twitter Lists are a way to follow a large group without seeing their tweets in your stream.
Direct Messages are private.
If you @reply someone, only people who follow both of you will see the message. If they don't follow both of you, they won't see it. Although, Public searches will find the tweets.
Great way to connect with people you don't know or have never met.
Use Case, Connect with people at a conference., Talk about a subject in real-time., Handle Customer Service inquiries., Listen, Build Relationships.
Next Actions:, Sign up with your email address that people know you by., Search for common keywords and hashtags, Begin to write tweets that you find interesting.
facebook.com
Actions, Sign up, Set Privacy Settings, Create Profile, add your email addresses, Create Lists, Close Friends, Family, immediate, extended, Work, Co-workers, Clients, Vendors, Students, Friend people, Become a Friend, and/or Like/Recommend, Status Updates, Upload Photos and Tag Photos, Listen: Search Facebook. http://www.facebook.com/srch.php
Individuals have profiles
Groups are public Profile groups smaller
Pages are public personas, brands, companies
started off as more of a private site, but has moved to more public, by default the privacy are more public.
Tasks
listen
Decide what social sites make sense.
Manage Privacy
http://www.assemblyjournal.com/2010/06/confessions-of-an-online-stalker/
Decide what's public
Strategy., if you don't want it public, don't put it on the internet, Make Everything public., Create different personas or categories
Participate / Use the services.
Social Sites
Blog
Wordpress, Self-hosted, wordpress.com
Typepad
https://www.blogger.com/
http://www.movabletype.com/
Friend vs. Fan, http://www.searchenginejournal.com/facebook-group-vs-facebook-fan-page-whats-better/7761/
Personal Vs. Business
Group vs. Page, http://mashable.com/2009/05/27/facebook-page-vs-group/
Security, http://mashable.com/2009/04/28/facebook-privacy-settings/, http://www.makeuseof.com/tag/the-complete-guide-to-facebook-privacy/
Who to Friend?, Example Policy
Advanced Customization, FBML, Facebook Notes, Blog RSS Reader, Twitter Integration, From Twitter, To Twitter, It Depends, Flash Player, others
Twitter Background Design
Twitter Guides, http://business.twitter.com/twitter101/, http://mashable.com/guidebook/twitter/
Beware of Spammers
Twitter Web Uses, http://trackdailygoals.com/, http://tracklifetweets.com/, http://tweetwhatyoueat.com/, http://www.rasmussen.edu/articles/creative-uses-of-twitter.asp
Twitter Applications, TweetDeck, HootSuite, Cotweet, Seismeic, iphone, tweetie, tweetdeck, Twitterific, Wefollow, Twellow
Other LifeStreaming
Tumblr
Posterous
http://profiles.yahoo.com/
Video
Youtube, You Tube Channel, Comments, Will it Blend
Photos
Flickr, Tagging, Groups, Technically not Business Acceptable, Creative Commons
Podcasting / Audio
http://www.blogtalkradio.com/
Resume / Networking
http://www.brazencareerist.com/
http://www.linkedin.com/
Social Bookmarking
Others:, http://www.instapaper.com/u, http://pinboard.in/
Hyper Location
Yelp Reviews
Google Locations
Angie's List
NEW Upcoming Social
Geolocation, http://foursquare.com/
Augmented Reality, Yelp Reviews
Traditional Methods
http://answers.yahoo.com/
http://stackoverflow.com/
Google Groups
GetSatisfaction
Newsgroups
Forums
Other
myspace
last.fm
pandora
plaxo
on and on and on
Conversational Prism
http://www.flickr.com/photos/briansolis/2735401175/sizes/l/