Walt Disney
by Jesenia Zapata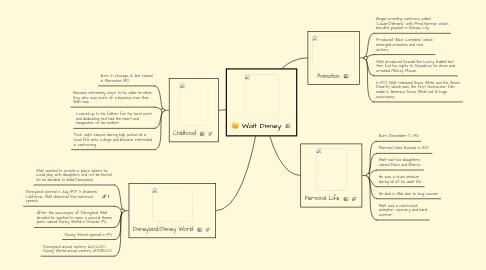 1. Disneyland/DIsney World
1.1. Walt wanted to create a place where he could play with daughters and not be bored. So he decided to build Disneyland.
1.2. Disneyland opened in July 1955 in Anaheim, California.. Walt delivered this historical speech
1.3. After the successes of Disneyland, Walt decided he wanted to open a second theme park named Disney World in Orlando, FL.
1.4. Disney World opened in 1971.
1.5. Disneyland annual visitors: 16,202,000 Disney World annual visitors: 18,588,000
2. Childhood
2.1. Born in Chicago, IL but raised in Marceline, MO.
2.2. Became extremely close to his older brother Roy who was more of a business man than Walt was.
2.3. Looked up to his father for his hard work and dedication but had the heart and imagination of his mother.
2.4. Took night classes during high school at a local fine arts college and became interested in cartooning.
3. Personal Life
3.1. Born December 5, 1901
3.2. Married Lillian Bounds in 1925.
3.3. Walt had two daughters named Diane and Sharon.
3.4. He was a chain smoker during all of his adult life.
3.5. He died in 1966 due to lung cancer.
3.6. Walt was a cartoonist, animator, visionary and hard worker.
4. Animation
4.1. Began creating cartoons called "Laugh-O-Grams" with Fred Harman which became popular in Kansas City.
4.2. Produced "Alice Comedies" which emerged animation and real actors.
4.3. Walt produced Oswald the Lucky Rabbit but then lost his rights to Oswald so he drew and created Mickey Mouse.
4.4. In 1937, Walt released Snow White and the Seven Dwarfs which was the first technicolor film made in America. Snow White led to huge successes.