The Holy Ghost
by
Stuart Clark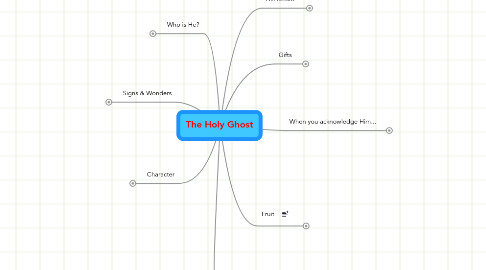 0.0
stars -
0
reviews range from
0
to
5
The Holy Ghost
Who is He?
GOD
A Person
Invisible
Because he is invisible does not mean he is not with you right where you are right now!
Spirit of Christ
Eternal
His Desire
See Jesus Glorified
To live BIG on the inside of you
Intimate relationship with you
For you to live a Holy life
Get you spiritually Drunk, New Wine
To have you baptised and refilled
To have open Communication to Heaven
Complete the united will of God
Character
Gentle
Can desend like a dove
Can form like a cloud
Hover over the waters
Powerful
Manifest like a mighty rushing wind
Creative
Fire
Rivers of living water
Cause Conviction
Conviction is Godly Sorrow which leads to repentance and forgiveness.
He can be grieved and hurt
New Wine
Omnipresent
He is everywhere
Fruit
Fruit of the Spirit is love, joy, peace, patience, kindness, goodness, faithfulness, gentleness and self-control. Gal 5:22-23
Love
Joy
Peace
Patience
Kindness
Goodness
Faithfulness
Gentleness
Self Control
Gifts
The ministers of the Spirit
Signs & Wonders
Healing
When you acknowledge Him...
He will reveal God's love to you
He will give you the perfect plan for your life
He gives Godly wisdom
He encourages you
He gives you direction
He guides you
He advises you
He can be your advocate
He can supply your needs
You will hear from heaven
He will give you a new understanding of God's word
Website
www.savedhealedwhole.net