Student Retention & Effective Strategies for Promoting Personal Success
by julia malin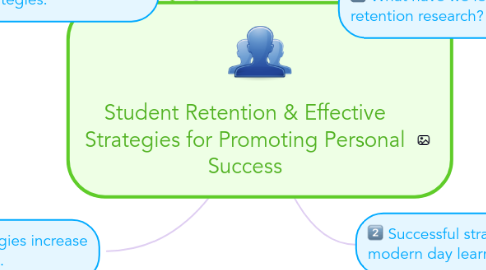 1. Successful strategies of modern day learning.
1.1. Student engagement is a successful strategy.
1.2. Technology contributes to student engagement for both online learning and classroom learning.
1.3. Smartphones, mobiles apps, and online books are key sources that contribute to student engagement.
2. Success strategies increase student retention.
2.1. Increasing persistence will increase retention.
2.2. Negative and positive campus characteristics effect student success and how they perform in the classroom. Performance is a retention quality.
2.3. Planning, reading, writing, and evaluating steps are considered successful strategies. Students will stay in school longer when they have organized strategies.
3. Online learning and classroom learning strategies.
3.1. Teacher interaction is crucial to students' success in the classroom and online.
3.2. Clear goals and academic planning help students participate in online and classroom learning.
3.3. Classroom atmosphere and challenging feedback from peers both play important roles in successful learning.
4. What have we learned from retention research?
4.1. Stress, time, and money, play a tremendous role in student retention and success.
4.2. The benefits of scholarships and solid economic living conditions influence student retention.
4.3. There are strategies that prevent low student retention and strategies that increase retention.
5. Conclusion: Utilizing available resources, and customizing academic strategies, a student will more likely stay in school longer because they will be successful. Students who are not successful, will not stay motivated to retain in school. Technology sources and classroom interaction can keep students engaged and motivated. Students that reflect qualities of engagement and motivation will not drop out of school.