Ruby/Rails for Python developers, Vitaly Kushner
by
Udi h Bauman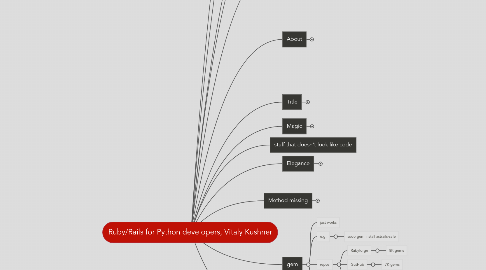 0.0
stars - reviews range from
0
to
5
Ruby/Rails for Python developers, Vitaly Kushner
stuff that doesn't look like code
Title
Ruby Magic
About
Founder of Astrails
Started working with Rails in 2005
History
Magic
doesn't agree with
Programming Languages
Lisp at the top
Python & Ruby very similar
Erlang better for concurrenct computation
mentions
indentation
Python virtues critique
Beautiful is better than ugly
Explicit is better than implicit
..
There should be 1 & preferrably only 1 way to do it
Elegance
close to english as much as possible
Monkey patching
Unlike Python, Ruby allows & encourages it
enables creating beautiful DSL's
Blocks
like lambda but supporting also statements
enables creating DSL's that non-programmers can understand & even modify
e.g.
useful for nested blocks
enables functionality similar to macro's e,g, in Lisp
DSL's
not requiring paranthesis, makes the code much less cluttered, & similar to very readable configuration file
example
Method missing
If method not found, an event occurs that you can implement
e.g.
works by levels
used daily, to extend objects with methods
exists in Python too
gem
just works
e.g.
repos
if you're looking for something, someone probably did it
Python has more libraries
Q&A
What else is written in Ruby besides Rails