Special Education Categories and Accommodations under the Individuals with Disabilities Education Act (IDEA)
by Marion Chatelin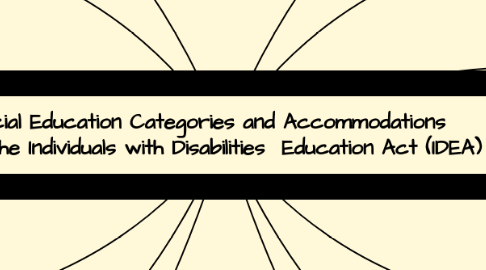 1. Specific Learning Disability
1.1. Subcategories: 1. Reading (called dyslexia) 2. Writing (called dysgraphia) 3. Listening 4. Speaking 5. Reasoning 6. Math (called dyscalculia)
1.1.1. Intervention Strategies: 1. Scaffolding 2. Break learning into small steps 3. Structure 4. A multisensory element (visual, auditory, kinesthetic and tactile) 5. Reinforcement 6. Skills teaching 7. Incorporate metacognitive aspects Assistive technologies: 1. Screen readers can help readers with significant learning disabilities. 2. Cognitive reminding software or device 3. Electronic dictionaries, thesauruses, and writing assistant software 4. Optical character recognition software 5. Reading software 6. Text-to-speech software 7. Word prediction software
2. Deaf-Blindness
2.1. Intervention Strategies and Assistive technologies: a screen reader with accompanying refreshable Braille display can be used by individuals who are both deaf and blind to access a computer.
3. Deafness
3.1. Intervention Strategies and Assistive technologies: 1. Screen reading software 2. Cognitive reminding software or device 3. Electronic dictionaries, thesauruses, and writing assistant software 4. Optical character recognition software 5. Reading software 6. Text-to-speech software 7. Word prediction software 8. Assistive listening devices 9. Closed caption decoding device on televisions 10. Telecommunication device for the deaf (TDD)
4. Multiple Disabilities
4.1. Intervention Strategies and Assistive technologies:
5. Other Health Impairment
5.1. Subcategories: 1. Due to chronic or acute health problems such as asthma 2. Attention deficit disorder or attention deficit hyperactivity disorder 3. diabetes, epilepsy, a heart condition, hemophilia, lead poisoning, leukemia, nephritis, rheumatic fever, sickle cell anemia 4. Tourette syndrome
5.1.1. Intervention Strategies and Assistive technologies: 1. Computer-based instruction, distance learning, and other options that minimize travel and classroom-based instruction. 2. Record class sessions or meetings 3. Flexible attendance requirements 4. Note takers 5. Allow extra time
5.1.1.1. Case Study: When I was a school administrator in the past couple of years we had an asthmatic student, Ayesha (in Grade 5 last year) who suffered from severe attacks and seasonal pollen allergy which would trigger further health issues. She would go weeks without attending school. We had put up a system where a student in each class (one in mathematics, a different one in English, and another one in Science, etc) would be taking notes for her. Her mother would come on a weekly basis to pick up the work and Ayesha would sit for the exams along with her classmates as scheduled. She would come to school only two periods a week to sit for her tests. Even though she was given a lot of leniency to submit assignments, she always submitted on time. Her attendance requirements were very flexible and despite all her absences she was one of the best students in her class.
6. Autism
6.1. Subcategories: 1. Asperger's syndrome 2. Pervasive developmental disorder or PDD (also known as atypical autism) 3. Rett syndrome 4. Childhood disintegrative disorder
6.1.1. Intervention Strategies and Assistive technologies: 1. Visual representation systems (objects, photographs, drawings, and written words) 2. Sensory input (visual, auditory, multisensory, vestibular) 3. Receptive communication 4. Expressive communication
7. Development Delay
7.1. Subcategories: 1. Down Syndrome 2. Fragile X Syndrome
7.1.1. Intervention Strategies and Assistive technologies: 1. Structure and predictability (establishing procedures and routines) 2. Manipulatives: hands-on learning (alphabet letter tiles, wooden blocks and plastic shapes) 3. Multiple learning strategies (writing and drawing pictures to express themselves) 4. Seating Arrangements (minimizing distractions)
8. Emotional Disturbance
8.1. Subcategories: 1. Anxiety disorders 2. Bipolar disorder (sometimes called manic-depression) 3. Conduct disorders 4. Eating disorders 5. Obsessive-compulsive disorder (OCD); 6. Psychotic disorders.
8.1.1. Intervention Strategies and Assistive technologies: 1. Welcoming environment 2. Be positive, not punitive
9. Hearing Impairment
9.1. Intervention Strategies and Assistive technologies: screen reading, screen magnification, and software to assist people with hearing and mobility impairments.
10. Intellectual Disability
10.1. Intervention strategies and assistive technologies: 1. Break down learning tasks into small steps 2. Kinesthetic approach (performing a task "hands-on") 3. Use visual aids 4. Provide direct and immediate feedback
11. Orthopedic Impairment
11.1. Subcategories: 1. Congenital anomaly 2. Impairments caused by disease (e.g., poliomyelitis, bone tuberculosis) 3. Impairments from other causes (e.g.,cerebral palsy, amputations, and fractures or burns that cause contractures)
11.1.1. Intervention Strategies and Assistive technologies: 1. On-screen keyboards 2. Motion based alternative text entry 3. Speech recognition software 4. Sticky keys, key repeat, and mouse control software/features 5. Word prediction software 6. Eye tracking or head pointer hardware and accompanying software 7. Joysticks, mouth sticks, trackballs, switches, one handed and chorded keyboards, large key keyboards, and other adaptive hardware
12. Speech or Language Impairment
12.1. Subcategories: 1. Articulation (e.g., lisp) 2. Fluency (disrupted flow of speech) 3. Voice (e.g. abnormal pitch, resonance or loudness) 4. Language (problems in expressing ideas)
12.1.1. Intervention Strategies and Assistive Technologies 1. Student should sit in the front of the class 2. Use Alternative or Augmentative Communication (AAC) techniques. AACs techniques fall into two broad categories—aided and unaided. 3. Augmentative and alternative communication software Software that allows persons who have difficulty communicating to indicate by pointing, or acknowledge a particular icon to indicate a word, need, or concept.
12.1.1.1. Case Study: This year, I have a student who does not speak. She suffers from oral apraxia due to a prolonged brain seizure she sustained as an infant. Although oral language is limited largely to grunts, Aryana's overall communicative abilities are remarkable. She effectively uses animated facial expressions, sophisticated gestures, highly expressive grunts, and her Ipad to communicate. She is incredibly social, engaging, and well adjusted in her class. She does have a one on one aid, Cairal, who follows her throughout the day in all of her classes but Cairal is more of a moral support than an active facilitator because Aryana can communicate with her peers and teachers through non-verbal communication. It has only been a week since school started so I am still observing and evaluating how this disability can affect/change my teaching strategies but I will applying the teaching strategies I have listed in the previous section.
13. Traumatic Brain Injury
13.1. Subcategories: 1. Open Head Injuries 2. Closed Head Injuries
13.1.1. Intervention Strategies and Assistive Technologies: 1. Reduce distractions in the student's work area 2. Divide work into smaller sections 3. Frequently repeat information and summarize it 4. Provide oral and written instructions
14. Visual Impairment including Blindness
14.1. Intervention Strategies and Assistive technologies: 1. Optical character recognition software (OCR) 2. Screen magnification software 3. Screen reading software 4. Text-to-speech based software 5. Braille displays 6. Handheld telescope and magnifying glasses 7. Video magnifiers
14.1.1. Case Study: When I was doing my Master's degree I was a Graduate Assistant in the Languages department at Arkansas State University. My first semester teaching French I had a blind student, Harry, in my Beginner French class. I was very anxious about having a blind student in a class of 25… Thankfully, Harry was one of my best students in the class (he was fluent in Spanish, which helped him a lot). He would come to class with a special laptop (with a Braille keyboard) and would take notes on that as the lesson went by. Whenever I would write something on the board, he would ask me to type it and email it to him so his screen reader could spell it out letter by letter, or read/pronounce the words given. He would type all of his assignments and either email me or print them for me. During tests, he would go to the Computer Laboratory and a French-speaking instructor would read out the questions for him. For the writing part of the test, he would use his own laptop. Those were the only accommodations he ever asked for. So it was not a challenging experience at all. I actually realized while teaching him that most of the activities we did in class were visual such as describing a picture so I would always pair him with another student, who would describe the picture to him and they would work together on the assignment. It worked very well.