Week 4 - Outline
by Ruth Seong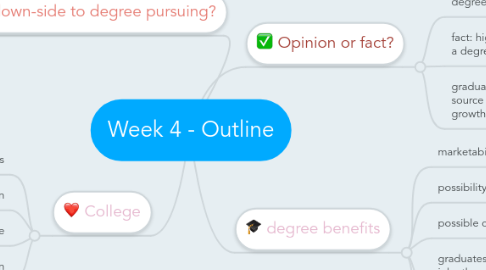 1. College
1.1. jobs
1.2. education
1.3. degree
1.4. social interaction
2. degree benefits
2.1. marketability
2.2. possibility for loads of money
2.3. possible dream job
2.4. graduates enjoy higher quality jobs than non-graduates
2.4.1. what about Steve Jobs? and other non-graduates?
2.5. career advancement
3. down-side to degree pursuing?
3.1. financial debt
3.2. loss of time
3.3. over-qualification
4. Opinion or fact?
4.1. opinion: people hope for higher paying jobs with a degree
4.2. fact: higher paying jobs require a degree
4.3. graduates, with their higher levels of skill, are a source of wider innovation and economic growth.
4.3.1. statistics?