Native Americans cultures formed based on adaptions to regional environments.
by Elizabeth Hubbard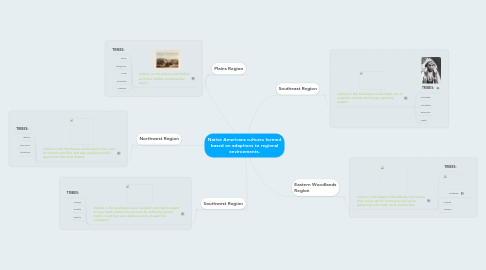 1. Southeast Region
1.1. Indians in the Southeast could make use of a gentler climate and longer growing season
1.1.1. TRIBES:
1.1.2. Cherokee
1.1.3. Chocktaw
1.1.4. Seminole
1.1.5. Creek
2. Southwest Region
2.1. Indians in the southwest were nomadic and had to adapt to very harsh desert environment by following animal herds or settling near stable sources of water for cultivation.
2.1.1. TRIBES:
2.1.2. Navajo
2.1.3. Pueblo
2.1.4. Apache
3. Northwest Region
3.1. Indians in the Northwest could exploit the rivers for salmon and fish, and also exploit plentiful wood from the thick forests.
3.1.1. TRIBES:
3.1.2. Yakima
3.1.3. Nez Perce
3.1.4. Shoshone
4. Eastern Woodlands Region
4.1. Indians in the Eastern Woodlands had forests they could use for hunting as well as for gathering wild roots, fruits and berries.
4.1.1. TRIBES:
4.1.2. Shawnee
4.1.3. Pequot
4.1.4. Lenape
5. Plains Region
5.1. Indians on the plains could follow and hunt buffalo and american bison.
5.1.1. TRIBES:
5.1.2. Sioux
5.1.3. Cheyenne
5.1.4. Crow
5.1.5. Comache
5.1.6. Pawnee