Piaget/Vygotsky Mind map reference (Ormrod, 2014): Similarities: 1) Stages of Development 2) Influence of people in a child's life. Differences: Piaget role of child in constructing knowledge vs. Vygotsky role of adult in imparting knowledge 2) Piaget construct meaning via exploring culture vs Vygotsky direct role of culture on child
by Raymond Cabrera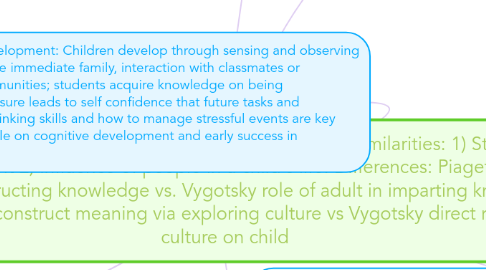 1. Piaget: Constructivism-children construct knowledge as they experience the world around them. For example children learn at home, school, community, etc. and begin to create meaning out of what they perceive. Concrete Application: In working with high school students and college access work: students construct their own perceptions about the value of going to college. Students learn from their pre-college experiences and the exposure to a college access curriculum makes the dream of going to college a reality.
2. Zone of Proximal Development: Children progress through stages of development based on the level of challenging tasks they complete which impact their cognitive development. Concrete Application: College Bound students are encouraged to take honors, advance placement, and dual enrollment courses. Success in these challenging courses impacts their cognitive development and provides them for the rigor they will face in college.
3. Piaget cognitive development: Based on four stages, each of which serves as a foundation for the next. Sensorimotor (Birth) /Preoperational (age 2) /Concrete Operations (6 or 7)/ Formal Operations (11 0r 12). Each child is different and progresses through these stages at their own pace. Conrete Application: Like planning for college, there are building blocks that lead the student to the next stage. For example, getting good grades, doing well on entrance exams, applying to college, and completing financial aid applications are all steps that take place at different points in a students high school career.
3.1. Download our native mobile apps for iOS and Android to mind map on the go!
4. Ray C. Individual Perspective of cognitive development: Children develop through sensing and observing the world around them. Starting at home with the immediate family, interaction with classmates or peers, and exposure to experiences in their communities; students acquire knowledge on being successful in those environments. Levels of exposure leads to self confidence that future tasks and challenges can be successful. Learning critical thinking skills and how to manage stressful events are key to building resilience. Literacy skills play a key role on cognitive development and early success in school.
5. Vygotsky: Social Cultural Theory-Cognitive Development is influenced by tasks children can complete with the assistance of adults. People in their lives impact their belief systems via shared experiences and hence their way of thinking and seeing the world. Concrete Application: In College planning, counselors have influence on educating students on the process of preparing for college and applying once it becomes senior year. Assisting students with exploring possible majors/careers, which schools to apply to, and seeking financial aid assistance are some examples of the critical role counselors play in this process. Ultimately, the work of applying will have to be done by the student but the counselor is there to motivate, guide, and support during the process.
5.1. Add a sibling idea by hitting ENTER
5.2. This is a sibling idea
5.3. Add a child idea by hitting TAB
5.3.1. This is a child idea
5.4. Choose icons and images to decorate your mind map
5.5. Connect topics with the arrow tool in the upper left corner of your screen
5.6. Add links, tasks or files to your topics, using the widgets in the sidebar
5.7. Change your map layout by opening the layout options in the upper left corner of your screen
5.8. Advanced
5.8.1. Open the Theme menu from the bottom of your map editor to change your map theme
5.8.2. Create a presentation of your mind map by clicking the presentation icon in the bottom left corner of your screen
5.8.2.1. Simply hold down COMMAND i.e. CTRL and Click & Drag to create a slide for one or multiple topics
5.8.2.2. Set transitions for your slides
5.8.2.3. Click "Start Slideshow" to view your presentation
5.8.3. Open the Sharing Settings from the bottom of your map editor to share the map with a friend or publish it to the web
5.8.3.1. You can share your map with anyone via email
5.8.3.2. You can publish your map and enable anyone with an internet access to find it
5.8.3.3. You can embed your map on a blog or website
6. In the 21st century, the role of technology in American culture is important. Children are influenced at an early by the usage of internet and social media. The key is teaching students how to manage the internet not only for entertainment, but also as a platform for learning and career preparation.