Weekly report. Week 5, Week 7
by Aleksandra Hrytsuk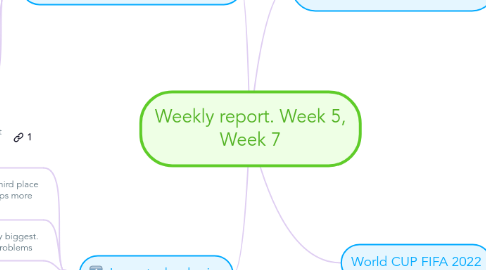 1. Japan technologies
1.1. Japan was once a leader with innovative technologies, invented some of the most iconic products of the world (sony walkman, nintendo)
1.2. Now it's fallen from the rate to third place after USA and China (tech startups more than 1 billion$)
1.3. Preferred Networks is the country biggest. They use AI to solve real world problems
1.4. AI Robots cleaning the air and pollution water in oceans, perform surgery operations in real time
1.5. Big investors can make or break companies. Softbank founder Masayoshi Son is Japan's most famous tech investor (WeWork, Uber and Slack). But his 100$billion Vision Fund Never invest in any Japan company.
1.6. Rallies are held in Japan to increase salaries, reduce working hours and improve working conditions
2. In London Uber lost it's licence
2.1. Society didn't like how the Uber responded to serious crimes and questions about it's safety
2.2. Since 2017 the company has given a probation period, which allowed Uber to keep giving rides
2.3. They endanger passengers with thousands of trips that were given by unauthorized drivers (even if the driver was fired, he can keep working)
2.4. You still may use the app with 45 thousand unauthorized drivers
3. US Naval Academy trainings in Annapolis Maryland
3.1. Students pass The Sea Trials exam, which shows the physical activity as human body allows. The series of physical and mental challenges last for 14 hours
3.2. Coy Wire, CNN- sport reporter, was invited to show and participate.
3.3. The Sea Trials starts in 2.30 a.m. Teamwork involves completing survival tasks: exhausting exercise, swimming in ice water, lack of food and water
3.4. The students learn how to work and communicate together to complete their mission. It takes a very strong mind
3.5. What keeps you going? - Everybody around me, my friends and teammates
4. World CUP FIFA 2022
4.1. The AL Janoub stadium is one of the largest (8th place) venues in the world, that was completed to FIFA.
4.2. The 40 thousand-seat will completely full for the championship. It was designed by famous architect Zaha Hadid, inspired by Qatari culture
4.3. The biggest problem with constructing was very high Qatar temperatures. Organizers promising open, air-conditioned space.
4.4. The solution was the high-tech cooling system developed by local researchers.
4.5. They decide to put the cooling sources upstairs under the roof and downstairs behind the playing area to save energy. This technology calls resirculation