Padlet Backpack
by Andrea Zajac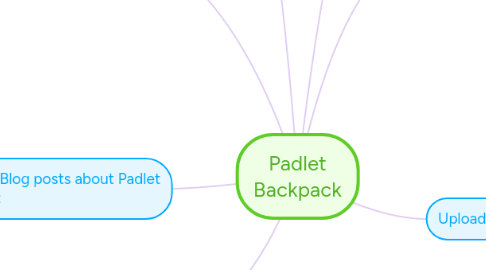 1. Virtual Sticky Note Wall
1.1. Students post ideas or could answer teachers questions
1.2. Teacher can pose a question with title and description feature
1.3. Exportable option so students/teacher can print out the conversations or ideas as needed
1.4. Can set it up with stickies related to specific categories that students need to respond to
2. Secure Network
2.1. School can get its own domain
2.2. Only teachers and administrators have access to accounts
2.2.1. DLynn-Give them automatic access to lessons and plans and other stuff you have created. Give administrators and teachers rights to see student work. (www.padlet.com)
2.3. Only visible to people in school
2.4. Control management - can remove sharing features to other sites
3. Upload Media & Document Files
3.1. Upload files up to 250MB
4. Customizable
4.1. School Logo
4.2. Layout options such as grid or list
4.3. Wallpapers - upload own or use default backgrounds
5. Web Address
5.1. https://padlet.com/premium/backpack
6. Articles/Blog posts about Padlet -Dr. Fritz
6.1. http://www.coolcatteacher.com/how-to-use-padlet-a-fantastic-tool-for-teaching/?utm_content=buffer3fa21&utm_medium=social&utm_source=twitter.com&utm_campaign=buffer
7. Comments
7.1. M Kennedy: I noticed on their website that Google Apps integration will be coming soon. This seems like an amazing collaboration tool and adding such a strong set of tools like Google Apps will only make this better. Security seems top notch on this, providing the teacher piece of mind that their content and students are safe.
7.2. W.Schumacher- This looks like a great resource for the classroom, and I think it would be a great tool for student portfolios. The privacy controls make this a secure tool that allows student work to only be viewed by those that are authorized. Great find!
7.3. F.Adams- teachers can use Padlet Backpack to create reports and portfolios for students.