Business Marketing with Social media
by Martha Menjivar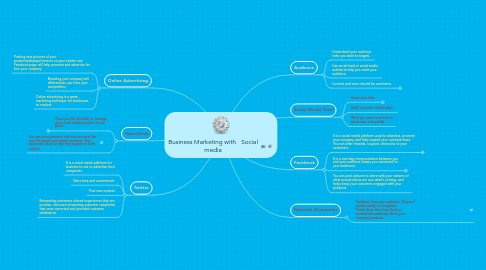 1. Online Advertising
1.1. Posting new pictures of your products/displays/services on your twitter and Facebook page will help promote and advertise for free your company.
1.2. Branding your company will differentiate you from your competitors.
1.3. Online advertising is a great marketing technique for businesses to explore.
2. Audience
2.1. Understand your audience (who you want to target).
2.2. Use social tools in social media outlets to help you reach your audience.
2.3. Content and voice should be consistent.
2.3.1. Included
2.3.2. Included
2.3.3. Excluded
3. TweetDeck
3.1. Gives you the flexibility to manage your social media accounts in one place.
3.1.1. Project specifications
3.1.2. End User requirements
3.1.3. Action points sign-off
3.2. You can cross promote with two accounts like your Facebook and twitter accounts. Your posts are linked so that they appear on both outlets.
4. Twitter
4.1. It is a social media platform for business to use to advertise their companies.
4.2. Takes time and commitment.
4.3. Post new content.
4.4. Retweeting customers shared experiences that are positive, and even retweeting customer complaints that were corrected and provided customer satisfaction.
5. Social Media Goal
5.1. Know your risks
5.1.1. Materials
5.1.2. Personel
5.1.3. Services
5.1.4. Duration
5.2. Build customer relationships.
5.3. What you want to achieve in awareness, and profits.
6. Facebook
6.1. It is a social media platform used to advertise, promote your company, and help expand your customer base. You can offer rewards, coupons, discounts to your customers.
6.1.1. Dependencies
6.1.2. Milestones
6.2. It is a two-way communication between you and your audience (keeps you connected to your audience).
6.2.1. Schedule
6.2.2. Budget
6.3. You can post pictures to share with your viewers of what new products are out, what's coming, and helps keep your customers engaged with your products.
7. Network Economies
7.1. Feedback from your audience. Respond professionally to complaints. Thank those who have liked, or commented positively about your company/products.