The Conditionals
by
C. G.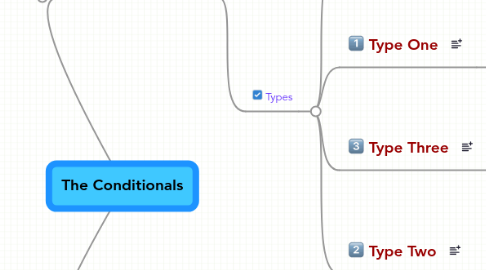 0.0
stars -
0
reviews range from
0
to
5
The Conditionals
They are typically used in commercial English to emphasize the fac that the condition is very unlikey.
Type 2
Examples: Should the letter arrive this week, please answer it immediately. Should Fred die tomorrow, we would miss him.
They emphasize improbability
IF-clause: should + inversion
MAIN: conditional or imperative
There is a special mindmap for I wish/if only... sentences. They are not real conditional sentences, but are similar to them in structure.
Basic structure
They consist of a MAIN CLAUSE and an IF-CLAUE
The IF-clause expresses the condition itself
It is normally introduced by the conjunction "if"
Other conjunctions may be used:, as long as, provided/providing, unless, Meaning: "if not", in case, not really a conditional
The main clause expresses the result of the condition
Types
Type Zero, General or universal conditions, IF-clause: if + present simple, MAIN: present simple
Type One, Probable conditions, IF-clause: if + present simple, MAIN: future
Type Three, Conditions in the past (impossible), IF-clause: if + past perfect, MAIN: conditional perfect
Type Two, Unreal or improbable, IF-clause: if + past simple, MAIN:conditional