Standards and Objectives of ELL Programs
by Katelyn Boyle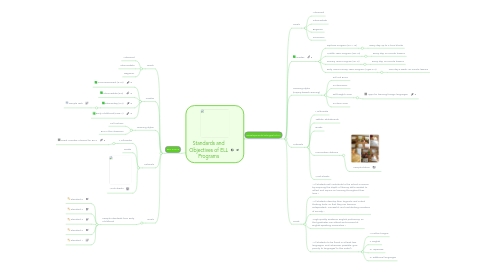 1. ESL in NYS
1.1. Levels
1.1.1. Advanced
1.1.2. Intermediate
1.1.3. Beginner
1.2. Grades
1.2.1. Commencement (9-12)
1.2.2. Intermediate (5-6)
1.2.3. Elementary (2-4)
1.2.3.1. Sample Task
1.2.4. Early Childhood (PreK-1)
1.3. Learning Styles
1.3.1. Pull-out ESL
1.3.2. ESL in the classroom
1.4. Materials
1.4.1. Multimedia
1.4.1.1. Great YouTube Channel for ELLs
1.4.2. Books
1.4.3. Work sheets
1.5. Goals
1.5.1. Sample Standards from Early Childhood
1.5.1.1. Standard 5
1.5.1.2. Standard 4
1.5.1.3. Standard 3
1.5.1.4. Standard 2
1.5.1.5. Standard 1
2. Developmental Bilingual at CA
2.1. Levels
2.1.1. Advanced
2.1.2. Intermediate
2.1.3. Beginner
2.1.4. Immersion
2.2. Grades
2.2.1. Diploma Program (G11-12)
2.2.1.1. Every day, up to 2 hour blocks
2.2.2. Middle Years Program (G6-10)
2.2.2.1. Every day, 45 minute lessons
2.2.3. Primary Years Program (G1-5)
2.2.3.1. Every day, 40 minute lessons
2.2.4. Early Years Primary Years Program (Ages 3-4)
2.2.4.1. One day a week, 30 minute lessons
2.3. Learning Styles (Inquiry-based Learning)
2.3.1. Pull-out ESOL
2.3.2. In-class ESOL
2.3.3. Self-taught LOTE
2.3.3.1. Apps for learning foreign languages
2.3.4. In-class LOTE
2.4. Materials
2.4.1. Multimedia
2.4.2. Tablets, whiteboards
2.4.3. Books
2.4.4. Provocation stations
2.4.4.1. Sample station
2.4.5. Work sheets
2.5. Goals
2.5.1. "All students will contribute to the school's mission by acquiring the depth of literacy skills needed to reflect and inquire on learning throughout their lives."
2.5.2. "All students develop their linguistic and critical thinking tools, so that they can become independent, successful, and contributing members of society."
2.5.3. "High-quality academic English proficiency, so that graduates can attend and succeed at English-speaking universities."
2.5.4. "All students to be fluent in at least two languages, and, whenever possible, give priority to languages [in this order]:"
2.5.4.1. i. mother tongue
2.5.4.2. ii. English
2.5.4.3. iii. Japanese
2.5.4.4. iv. additional languages