Click the arrow to go to ThinkBinder.com
by William Schumacher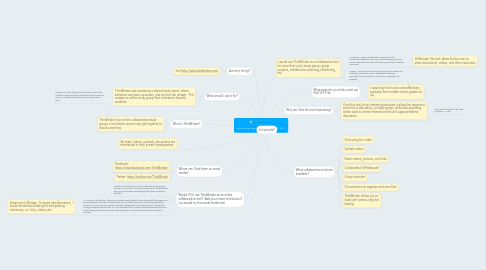 1. All chats, videos, uploads, discussions are maintained in their private headquarters.
2. What ages do you think could use this?-Dr. Fritz
2.1. I would say that to be used effectively, probably from middle school grades on up.
3. I would use ThinkBinder as a collaborative tool for more than just a study group; group projects, collaborative planning, scheduling, etc.
3.1. M.Williams: I agree! ThinkBinder is a great tool for collaborative learning, planning, and scheduling. Does this social media tool allow document sharing and links to certain resources?
3.1.1. Hi Marissa- Yes tool allows for the user to share documents, videos, and other resources.
3.2. A.Zajac: I can see this tool being a great way to collaborate with other teachers for IEP or grade level meetings especially if have a project or curriculum mapping to do together.
4. What is ThinkBinder?
4.1. ThinkBinder is an online collaborative study group; a tool where anyone can get together to discuss anything.
5. What collaborative tools are available?
5.1. Chat using live video
5.2. Upload videos
5.3. Share videos, pictures, and links
5.4. Collaborative Whiteboard
5.5. Group calender
5.6. Cloud service to organize and save files
5.7. ThinkBinder allows you to study with peers using live texting
6. What would I use it for?
6.1. ThinkBinder was created as a shared study space, where someone can post a question, and anyone can answer. This creates an online study group that is meant to benefit students.
6.1.1. R Burks: The only thing that worries me is that some students might find wrong information and answers on this site. Is there anything in place to help monitor this?
7. Is it private?
8. Where can I find them on social media?
8.1. Facebook- https://www.facebook.com/ThinkBinder/
8.2. Twitter- https://twitter.com/ThinkBinder
9. Would YOU use ThinkBinder as an online collaborative tool? Add your name to this box if you would try this social media tool.
9.1. R Burks: I think this is a tool that's definitely worth giving a try. Seems to me that it's not for everyone, but students who enjoy group activities and studying with peers would love this tool!
9.2. M. Williams: Absolutely! I think some students really benefit from working with their peers; and discussing ideas with other students who are currently learning the same thing (globally) is amazing. My only concern would be students getting the wrong information or making the wrong conceptual connections. It is very important for an expert (teacher/instructor) to frame certain ideas and assure enduring understandings are comprehended and committed to memory.
9.2.1. Great point, Marissa. To avoid misinformation, I would recommend asking for and posting references, i.e. links, videos, etc.
10. Why do I find this tool interesting?
10.1. I find this tool to be interesting because it allows for anyone to enter into a discussion, or study group, while also providing online tools to share information that will support/defend discussion.
10.1.1. Is this sort of related to the idea of Skype? - F. Ulsh
11. Are they hiring?
11.1. Yes! http://jobs.thinkbinder.com/