Case Study: Blaine Blaine, is 18 years old, and has just completed his first year in high school and was placed in ad hoc classroom for thoe with poor academic achievment. Along with other health issues, Blaine has Fetal Alcohol Syndrome, which has been the root of his struggles. Blaine's academic achievement level is comparable to a 9 or 10 year old, but his teachers report him being above that level. One might argue that he has developed a sense of learned helplessness in school which dampens his motivation to do things on his own. In order to accommodate Blaine's disability, the school's physical education department has proposed to the In-school Team (IST) that they exercise inclusionary practices for Blaine with the school's senior football team. This was very successful in the past when the school's football coach established this project with another special student, Mel. Blaine's parents, however, worry that their son will experience the same abandonment Mel felt when the school's team eventually scattered and graduated. Mel's experience was so traumatic that he has still not recovered from the events. The parents want what is best for Blaine, but they are hesitant that they won't be assured this series of events won't happen to their son like it did to Mel. What they ask is for assurance from the IST that the football team's undertaking will not end up the way Mel's case did and want further information on what the school program will provide.
by Brittani Musselwhite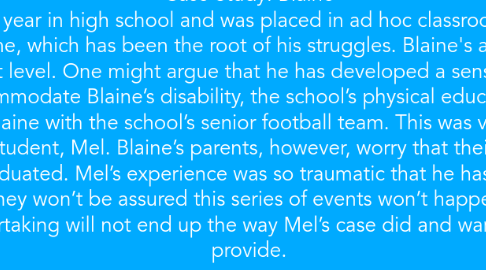 1. INTERPRETATION/CONNECTION TO TEXT: Keeping in mind with what we know about special education policies, it is important as educators to ensure our students with disabilities are placed in an inclusive school setting, therefore, removing Blaine from regular classrooms, will not be a proactive solution, especially since he has been having difficulties socializing with others. It is also important for us to remember that Blaine is NOT his disability. It is up to teachers to shift their classroom management and teaching methods to meet the needs of their students with exceptionalities. Since we are aware that Blaine suffers from learned helplessness, we feel it is important to take adaptive behaviours into account and recognize that he can actually learn quite well in certain environments, even though his academic tests show otherwise. An individual's intellectual functioning is not a static thing, so it is important for educators to establish intensive and early instruction in both academic functional and adaptive behaviour. It is also important to improve all student's self-esteem to help them flourish in school as well as in social settings.
2. Teacher's Perspective: Laura Ionico
2.1. As Blaine's teacher, it's come to my attention that Blaine is struggling with a sense of overwhelming moroseness and an unwillingness to do anything for himself. We sometimes call this behaviour "learned helplessness". It can be frustrating for any teacher. I see that Blaine is capable of achieving much more than he is willing to give. After spending some time in my classroom, it's clear to me that what Blaine is lacking is social connectedness and support. His feelings may be due to the fact that he hasn't spent enough time in the school to develop strong friendships (due to his diagnosis of FAS and multiple other health complications Blaine spent extended periods of time in hospital). Without a feeling of belonging, it is not unusual for students to lose interest in school.
2.2. Together with the Resource and Special Education department, we can come up with a plan of action to set Blaine up for success in the classroom. Within our classroom, I will make thoughtful and reflective group and partner pairings in class to guarantee he is partnered up with student who is empathetic and would willingly support Blaine. I will also set up various opportunities for team building in our classroom so that everyone is aware of how to appropriately work with Blaine (they understand that he has a disability).
2.3. I also have the responsibility to help Blaine not just develop academically but emotionally and socially as well. As a team we will work on shared goals with his EA, give him breaks during class, make modifications, and even give him some extra classroom responsibilities to keep him motivated. As long as we prepare a thorough strategy and stick to it, Blaine has the potential to succeed in the classroom.
3. Principal's Perspective: Brittani Musselwhite
3.1. As Blaine's Principal, it is my role as the administrator to ensure that my staff and students have access to the resources they need to be successful, academically as well as socially. I think it would be a great idea to have Blaine participate in extracurricular activities within the school. However, I can understand where his parents worry is coming from. To address these worries, we can ensure Blaine has a spot on the team through out his whole his school career, allowing him the chance to build relationships with more than one group of people. Also, by being a member of the football team, Blaine will be expected to actively participate in his academics as well. I think it would be a positive strategy to help Blaine get involved with the school community and help build a sense of belonging.
3.2. I feel that it would also be beneficial to Blaine if his parents, myself and his teachers developed an IEP for Blaine. This ensures that we have an accurate understanding of where Blaine is in regards to his academic achievement levels. From this, we can modify or accommodate the curriculum expectations to best suit Blaine's abilities.
3.3. To monitor the success of the program, I will be seeking feedback from the IST, coaches and teachers, and report to Blaine's parents. The main goal of this program is to give Blaine the opportunity to excel in the school atmosphere. Once football season is over, I feel it would be a good idea to get Blaine involved in other extra-curricular activities that our school has to offer. Thus, further helping him build connections with peers. The goal is that through making these connections, Blaine will be more motivated to come to school and participate in the classroom. We know he is more than capable of success, and it is our duty as teachers to set him up and steer him on the right path to success.
3.4. Students spend 6 hours a day at school, it is imperative to create a positive environment that fosters learning for all students. At the end of the day, student success is what we strive for, no matter how big or little the change is, as long as we are guiding them to reach their full potential. Blaine is not a reflection of his aptitude test scores, he is a student, who is trying to learn. We need to work towards eliminating his learned helplessness and helping him realize that he can do it! All he needs is a little push in the right direction. That requires teachers to adapt their teaching styles to meet the needs of their students. Maybe the way Blaine has been learning is not what works best for him. Once we find out what works best, Blaine will realize what he is truly capable of achieving, and we are here to help him see that he is not his disability.
4. Parent's Perspective: Samantha Younger
4.1. As the parent of Blaine, I am aware of the dark side associated with this undertaking. Although a very thoughtful and inclusive gesture of the senior football team, I worry that my son will endure the same traumatic experiences and feelings of abandonment that Mel, another special student, suffered from. What I need from the IST is assurance that the football team's project will not result in the same way Mel's case did. I need more information on what Blaine's school program will provide and what their plan of action is, especially when the end of the year is approaching and the the team is facing graduation.
4.2. If Blaine experiences a discouraging social experience such as Mel's, he may have self-expectations of poor performance while simultaneously exhibiting his "learned helplessness". Due to this, I ask that the IST and faculty staff encourage Blaine religiously and modify their behaviour instead of controlling him. This will show my son that he can do the assigned task and should feel proud because of it, thus improving his self-esteem.
4.3. What I would like for my son is normalization, that he is seen for his similarities with his non-exceptional peers rather than being considered "different". From past projects, I don't see this as being problematic, but want to ensure that this kind of treatment will be continued and consistent.
4.4. I would propose that Blaine get support from special education personnel because of his lack of motivation and passive patterns of work.What I would ask of the special education teachers is that they refrain from doing everything for Blaine and do not allow this behaviour to be a recurring problem. I would also ask that because many of Blaine's teachers see he is capable of so much more than his academic performance test suggests, that they give him intensive and early instruction in both academic functional and adaptive behaviour.
4.5. I am aware that an individual's intellectual functioning is not a static thing, so if we can work together to improve is academic performance, I would think that would be very beneficial to my son. Because Blaine suffers from "learned helplessness", I think it is important to take adaptive behaviour into account and recognize that he can actually learn quite well in certain environments even though his academic tests show otherwise.
4.6. With respect to the senior football team graduating, I understand that this is out of my control. However, I would like for the IST or football coach to give my son ample forewarning to provide a seamless transition towards the inevitable end of the season. They can then provide him with further invitation that he is welcome to return the following year. I am confident that with the help and support of Blaine's school, we can optimize his school experience and improve upon his self-esteem so he doesn't experience the same feelings as Mel.
5. Student's Perspective: Rachel Tupling
5.1. It has been brought to my parents attention from the teachers and IST at my school, that they want to make me an "inclusion pal" for the football team next year. I am eighteen years old and everyone around me seems to think that I do not understand them. I am aware that I am different and behind other students, however no one has asked me what I would like to do next year. Over the course of this past year I have had this unwillingness to do anything and I had no idea why. My parents informed me that is is called moroseness and it's extremely difficult to deal with. The teachers at the school ended up placing me in a self-contained class with four other students at the final quarter of the year thinking that it would help me.
5.2. I have an attitude issue that affects my academics, which they like to call "learned helplessness." In my medical report, fetal alcohol syndrome is noted as a primary cause of my disability. I spent three years in a hospital school due to chronic health problems and I know this all because I have overheard my parents discussing it with doctors, principals and teachers. Even though I do suffer from these issues, I do think it is important to take adaptive behaviour into consideration and recognize that I may be able to learn well in different environments and having extra one-on-one assistance.
5.3. I know that the I do appreciate any help that I can now get but becoming an honorary football player does make me uneasy. I have heard my parents talk about Mel, who was also an honorary football player and how it was so successful, I remember it being all over the television. Mel became friends with all of the football players and they included him in everything that the players attended. When the boys left for college, he lost all of those friends and as many would argue, his life. His grandmother now reports that all he does is sit, eat, stare and won't do anything at all. My parents are worried that this will happen to me if I join the team and to be honest I am as well. I think it would be such an incredible opportunity to be apart of a team since I have never been apart of anything like this. I think if I do join the team it will open up some doors for me as I am getting older and participating in a normal activity with students my age will maybe, even motivate me to do academic work. Having the assistance from the coach, team players, teachers and parents will give me a sense of belonging.football team is very structured with their practices and games so this would be great to keep me busy and out of trouble.
5.4. Mel is not me and I am not Mel. This opportunity will be a change in my routine and at this stage in my life, any change may turn out to be a good one and if not I know I have a supportive family behind me to help me out. My parents are willing to do anything for me and want to make sure my case does not end up like Mel's. Gaining as much information as possible from the school, teachers, principal and peers we as a family will hopefully be able to make the best decision for myself and for my future.