Joyful Productivity
by
George Kao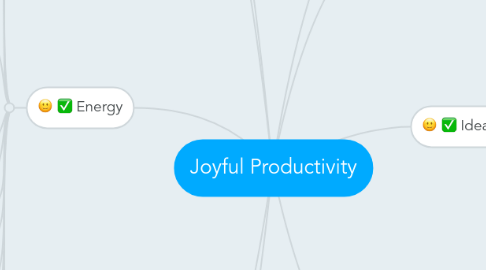 0.0
stars - reviews range from
0
to
5
Redefining Success
Why:
Think long-term
Be an Essentialist
Do Deep Work: http://j.mp/1kwqpU7
Executive Toughness
Focus on Systems, not Goals
Success as Spiritual Growth
How to not fear "hard work"
We are here for the sake of each other
Build Your Integrity Daily
When You Encounter Setbacks
Time
Your Ideal Schedule & "Time Buckets"
80/20 Rule -- try to eliminate 80% of your activities, and keep the 20% most effective, most fulfilling, and scale those...
Consciously design your morning routine: http://j.mp/1RQBuKI
Daily Reviews: start & end the day with a clean slate. Amazing psychological benefits, and clarity / lack of overwhelm.
Automated Scheduling
Practice Setting Appts with Self
A better relationship with your alarm
Time Logging
Use Timer For Time Suckers (manage your trances)
Pomodoro Technique
If I had more time, I would...
Ideas & Tasks
Thought Decluttering & Task Prioritization
Idea Capture System (your brain is not a storage device)
Slim List vs a To-Do List
Look at your task list daily, e.g. using Daily Reviews
Task Management Tools
Temporal & Physical Placeholders
Email Productivity
Using Google Drive
When Overwhelmed, what to do:
Energy
Getting better sleep
Eat healthier
More time in nature
Rhythms of Renewal
Micro-routines to help you enjoy work
Visualization
Overcoming Overwhelm
Bless anything that annoys you...
Energy Awareness & Recovery
Reminders for Energy Awareness
Plug Up Energy Sinks
Increase Intelligence Via Daily Content Creation
Altucher's "Idea Machine"
Thought Replacement
Enjoying your work
When you encounter a "failure" or setback...
Virtual Co-Working
Habits
Use questions: https://medium.com/@georgekao/use-questions-to-form-habits-b6c1837ebb35
"Better than Before" by Gretchen Rubin: http://j.mp/1BJONKi
27 Foundational Habits for Success: http://j.mp/1KktGeW -- use a "habit waiting list"!
Epic List of Business Habits: http://j.mp/1QJRAWt
Affordable Outsourcing
For anything technical, design-related, content (writing, video, audio), or even keeping you accountable.
http://Fiverr.com -- how to use it: https://www.youtube.com/watch?v=rHjhlsuROLE
http://Upwork.com (previously called oDesk) -- how to use it: https://www.youtube.com/watch?v=ep5Dnhm9jsQ
Tips on hiring: https://www.mindmeister.com/436857741
Be open to having volunteers help spread your message
Additional Productivity Tools
Desktop Productivity
Learn how to search better
Google Chrome Tools
Productivity skills for the 21st century: http://j.mp/1LKzhOd
2017
Show my Google Keep Doc -- Numbers & Schedule
Clarify what my ToDoist folders are
Show my Ideal Schedule
Make it clear that since there's 44 working weeks (For me) that means I have 44 hours of Optimization each year... how many for rest of the year, and therefore what are the main projects?