Internationalism-preparing students for practice: Globally and locally?
by
Paul de Roos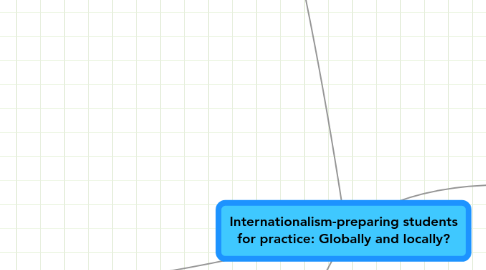 0.0
stars - reviews range from
0
to
5
Internationalism-preparing students for practice: Globally and locally?
Deborah Murdoch Eaton: Leeds
Tony Redmon: Manchester
Nigel Bax: Sheffield
Italy
Student 6th year
Interest in GLobal Health
?
?
Lisboa
Canada
Western Ontario
Global Health Office
Internationalisation is priority
New node
thailand
Former nurse
Working on medical curriculum
The Netherlands
Australia
Career advice
Monash University
Integrating Global health in curriculum
USA
University of Michigan
Health equity
Global health
Italy
University of Milano
LEarn aboutInternationalism
Denmark
Student
Works on improving medical education
Interest in International relations
Denmark
Student 2x
Faculty which has not much travel abroad activities
UK, Manchester
GP
Medsin UK
Teaching Fellow Job
Inspiration
Nottingham/London
Global Health Education
Junior doctor
USA
President of AMSA
Interested in Global health
?
UK, London
Cultural diversity internally
Content of internationalisation curriculum
Covering cultural differences
Reflection
How to learn positive lessons from difference
Global migration
Australia
Global health
Community medicine
Thailand
Global health
Australia
Director of medical studies
electives abroad
Conceptualization of the topic
Very diverse participants
Global and international = cultural experience
UK
Final year electives, 8 weeks, much travel abroad
Many graduates work abroad
Questions to work on
What do you understand by "global health", In international practice at home/abroad, Religion, Language, Culture, Understanding different contexts, etc. -- not all minuted
What "global health" needs to be in the curriculum?, Does it need to be in?, Do all need to know?, Elective?
Small working group outcomes
Group1
Every single model some aspects
e.g. respiratory medicine, Wider context
Knowledge, Concepts related to local, national, global issues, in each course subject area
Systems way, e.g. asking about travel history in respiratory medicine, instead of solely case based
Behaviors, Thinking of wider global issues?, Assessment, Portfolios, OSCEs
Group 2
Knowledge
Communication skills
Not just a module: theme running through curriculum
Indigeneous populations
Assessment, Formative, What do you do with?
When going abroad, To which extent can the student learn, to which extent can the student contribute
British / Australian / Italian - group
Do students have to travel abroad during studies?
Group 3
Embed in evidence based medicine
earlier groups
"everybody has to do something", What's the host getting out of it?, Win-win, Teaching abroad, Underserved communities, Just a different context than home
Discussions
Medicine seems to be lagging behind compared to other fields
We want to make real relations with institutions where our students go
We want more equal relations with our partners, Canada!, Very complicated, Requires lots of efforts
Group 4
Community based medicine in Thailand: much global health
Anything worth teaching is worth evaluating
It's hard: how to measure success