Allan and Janet Ahlberg
by Joane Cheng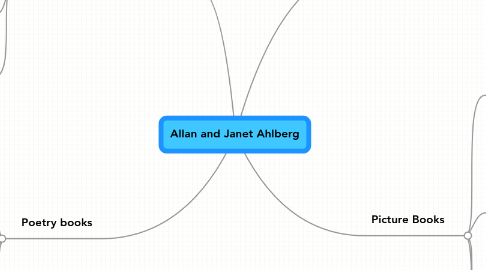 1. The Ahlbergs collaborated on the creation of many well known children's books. They have produced picture books, poetry collections and novels.
1.1. Allan was a teacher before he began writing stories and poems for children. He has worked with many other artists as well as collaborating with his wife Janet.
1.2. Janet took a graphic design course that opened up the world of illustration, she asked her husband allan to create some stories for her to illustrate.
2. Quotes about the Ahlbergs
2.1. 'The Ahlbergs belong with A. A. Milne and Lewis Caroll, to the greatest tradition of British children's books, having the kind of genius that can dominate an era' - Sunday Times
2.2. Many of their books have become children's classics, with their 'rhythmic prose, their mix of dottiness and sentiment appealing both to young children and to the parents who read them aloud' (Louette Harding, The Daily Mail).
2.3. 'Janet and Allan Ahlberg were to children's books what Ginger and Fred were to dancing'. (The Guardian)
3. Picture Books
3.1. Each Peach Pear Plum
3.2. Peek-A-Book!
3.3. The Jolly Postman
3.3.1. This book contains removable letters written by the characters of the book, the letters are stamped and written on different stationary, it makes the book really interactive and appealing to children. It is also a fun stimulus to get children writting their own letters.
3.4. FunnyBones
4. Poetry books
4.1. Collected Poems
4.2. Heard it in the Playground
4.3. Please Mrs Buttler
4.3.1. The poetry books written by Allan Ahlberg are wonderful for using in the classroom. Many of the poems are about school life and the ups and downs that children face at school. Having worked as a teacher for many years Alan can offer a realistic insight in to children's experiences at primary school.