Chloe (:
by Chloe Dias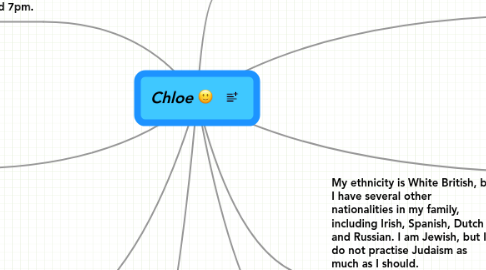 1. My hobbies include reading, playing bass guitar, seeing friends, listening to music, my musical interests range from rock to metal, and many other genres.
2. My ethnicity is White British, but I have several other nationalities in my family, including Irish, Spanish, Dutch and Russian. I am Jewish, but I do not practise Judaism as much as I should.
3. Age: 16 Born on the 24th January, making me an Aquarian.
4. I was raised in a lone-parent family by my mother, I have 3 siblings, all sisters of different ages: 14, 18 and 19. I was born in Queen Mary Hospital, at around 7pm.
5. I live in Greenwich, and used to attend a single sex school. I live with my mother and sisters, and we have 4 pets, a parrot called Basil, Cockatiel called Billy, Rabbit called Lola, and a Dog called Jackson.
6. My favourite quotes of all time are: "How wonderful it is that nobody need wait a single moment before starting to improve the world" - Anne Frank AND "We should take care not to make the intellect our god; it has, of course, powerful muscles, but no personality." - Albert Einstein
7. Although my father abandoned us at a young age, I was never able to to let myself become too absorbed in thoughts of personal loss. The courageous attitude I developed at a young age was the help that would see me through many other challenges
8. My most important friends name is Dominic, and he has always been there for me throughout any challenges I have faced in my life, and I wouldn't know what I would do without him. He has played a huge role throughout my teenage years, and I often find myself lost for words when it comes to thanking him.
9. I have always been intersted in body modification, and have 7 piercings as of late, and intend to acquire many more.