Mark A. M. Kramer
by
Dan Taylor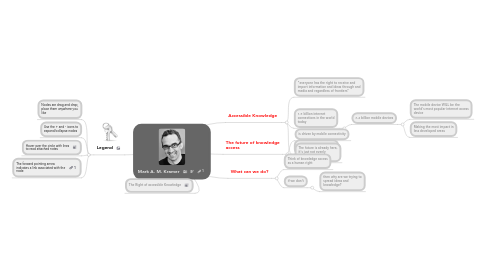 0.0
stars -
0
reviews range from
0
to
5
  Mark A. M. Kramer teaches at the university of applied sciences in Hagenberg and is part of the company"Yassuuu", which develops services for free access to information. It deals with the connections of mobile technologies and their impact on society. He is also co-founder of "Mobile Monday". http://www.mamk.net/  
The Right of accessible Knowledge
Mark A. M. Kramer talks about the right to freedom of information. He points to solutions that can help underdeveloped re- gions to get access to information, despite a lack of Internet access.
Accessible Knowledge
"everyone has the right to receive and import information and ideas through and media and regardless of frontiers"
1.8 billion internet connections in the world today
It's about the people not technologies
The future of knowledge access
is driven by mobile connectivity
The future is already here, it's just not evenly distributed.
What can we do?
Think of knowledge access as a human right
if we don't
Legend
Nodes are drag and drop, place them anywhere you like
Use the + and - icons to expand/collapse nodes
Hover over the circle with lines to read attached notes
Well done!