Girl With A Pearl Earring Mindmap
by Eva Novoa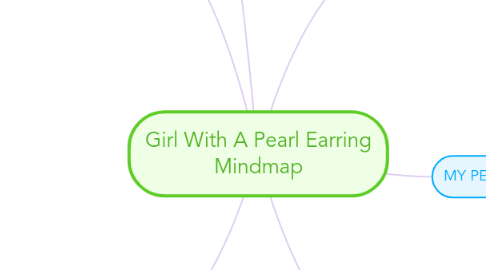 1. THE BOOK AS AN OBJECT
1.1. Cover description: a woman wearing a blue and yellow head cloth, looking over her shoulder, her eyes wide-open, her mouth open and wearing a pearl earring. Griet's portrait made by Vermeer. Under that painting there's another painting which is Town Hall, the view of Delft, where the story takes place.
1.2. General outlook and layout
1.3. Publication year: January 1, 1999
2. THE CONTENTS
2.1. Literary genre: historical novel
2.2. Plot
2.2.1. Griet, a sixteen-year-old Dutch girl becomes a maid in the house of the painter Johannes Vermeer. The painter Van Ruijven, notices her beauty and pressures Vermeer to paint a portrait of her. For the painting, he asks her to wear his wife's pearl earrings. When Catharina discovers this, Griet is forced to leave. Ten years later, Griet is a butcher's wife and mother of two. However, she is called back to the house upon Vermeer's death, who's last will was that Griet received the pearl earrings. Although, she pawns the earrings for twenty guilders and pays fifteen to her husband, that's how the maid finally came free.
2.2.2. Climax: when Catharina sees the portrait of Griet where she wears her pearl earrings and it creates a family conflict, full of jealousy
2.3. Physical and psychological description of characters
2.3.1. Griet: wears always an apron, dark colors, smooth lips, cover her hair, conservative. "I would not let him do all he wanted." p.3 "My hair was long and could not be tammed"p.130, Johannes Vermeer: quite, mysterious and ambitious man. "his eyes grey like the sea. (...) a long, angular face, his expression was steady(...) had no beard or moustache." p.4 "I had seen very little of him the first two days (...)" p. 44
2.3.2. Catharina: blonde, brown eyes, severe, jealous. "(...) tiny blonde curls (...) a baby was growing (...) here eyes were two light brown." "She made a show on watching me hard (...)" "She said abruptly" p.4. Van Rujiven: abusive, interested and mysterious man. "(...) tried to pull my chemise down over my shouylders and expose my bosom." p.214
2.4. 17th Century (1664-1676). Takes place in Delft, Holland.
3. THE AUTHOR
3.1. Short biography
3.1.1. Date of birth: October 19, 1962 in Washington DC
3.1.2. Noble winner, Belonged to the UK's Society of Authors, Outstanding novel
3.1.3. Best remembered for her novel Girl with a Pearl Earring
3.1.4. Her books are mostly a combination of historical facts with imagination
3.2. The Virgin Blue, 1997. The Lady an the Unicorn, 2003. The Last Runaway, 2013.
4. MY WORK RESOURCES
4.1. https://literature.britishcouncil.org/writer/tracy-chevalier
4.2. http://www.bookrags.com/studyguide-girl-with-a-pearl-earring/style.html#gsc.tab=0
4.3. http://www.tchevalier.com/gwape/paintings/index.html
4.4. Girl With a Pearl Earring, Tracy Chevalier's book
5. MY PERSONAL OPINION
5.1. Combination of art, history and fiction, it makes it eye catching. Analyze of the portrait, story of it. Descriptions, details, creative.
5.2. Sometimes Griet's attitude was deceiving. She could be very rude and how she started to forget her roots when she was becoming blind with her new life.
5.3. Delightful, gives you the power to imagine an exceptional atmosphere, can't stop reading, an outstanding book
6. MEANING
6.1. Author's style QUOTES
6.1.1. A first-person narrator: Griet. "It was the end of the summer that my sister died. (...) I spent much of my time hanging laundry on racks indoors(...)" p. 78-79
6.1.2. Mysterious, nervous and worried tone. "I could not hear Catharina's response." p. 134. "The shock of his touch made me drop the muller, (...) I jumped away from him(...)" p. 109
6.1.3. Archaic language. "His words frozen my blood (...) I thought about (...) van Ruijven grasping my chin in the hallway, of him saying You should paint her' to my master" p. 135
6.2. Message
6.2.1. The value of art, importance of history (woman's status, art...).