Learning Theories
by
Hotpot MITE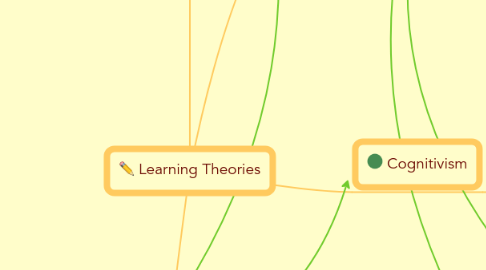 5.0
stars -
1
reviews range from
0
to
5
Learning Theories
Achievement can be attributed to
effort
ability
level of task difficulty
luck
example
When one succeeds, one attributes successes internally ("my own skill"). When a rival succeeds, one tends to credit external (e.g. luck). When one fails or makes mistakes, we will more likely use external attribution, attributing causes to situational factors rather than blaming ourselves. When others fail or make mistakes, internal attribution is often used, saying it is due to their internal personality factors.
Behaviorism
operant conditioning
classical conditioning
Classical conditioning is a reflexive or automatic type of learning in which a stimulus acquires the capacity to evoke a response that was originally evoked by another stimulus.
social learning theory
Bandura's Social Learning Theory posits that people learn from one another, via observation, imitation, and modeling
associative learning
Cognitivism
attribution theory
Attribution theory assumes that people try to determine why people do what they do, that is, interpret causes to an event or behavior
Multimedia Learning
Multimedia learning is the common name used to describe the cognitive theory of multimedia learning This theory encompasses several principles of learning with multimedia. When learning with...
Elaboration Theory
 Elaboration theory is an instructional design theory that argues that content to be learned should be organized from simple to complex order, while providing a meaningful context in which subsequent ideas can be integrated.
Constructivism
Constructivism as a paradigm or worldview posits that learning is an active, constructive process. The learner is an information constructor. People actively construct or create their own subjective representations of objective reality.
Social Development Theory
Social Development Theory argues that social interaction precedes development; consciousness and cognition are the end product of socialization and social behavior.
Communities of Practice
Discovery Learning
Discovery learning is an inquiry-based, constructivist learning theory that takes place in problem solving situations where the learner draws on his or her own past experience and existing knowledge to discover facts and relationships and new truths to be learned
Problem-Based Learning
Problem-Based Learning (PBL) is an instructional method of hands-on, active learning centered on the investigation and resolution of messy, real-world problems.