My Career Map
by Nagwa Mohamed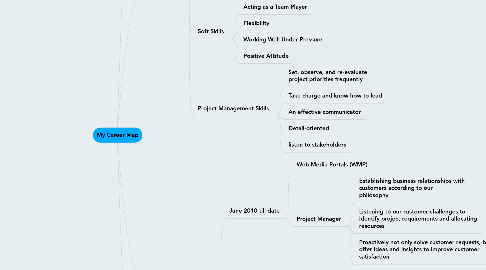 1. Skills
1.1. Languages
1.1.1. Arabic
1.1.2. English
1.2. IT
1.2.1. Web Development
1.2.1.1. .net
1.2.1.2. HTML
1.2.1.3. CSS
1.2.2. Multimedia
1.2.2.1. Photoshop
1.2.3. Databases
1.2.3.1. Microsoft SQL
1.2.3.2. MS-Access
1.2.4. Developement
1.2.4.1. HTML
1.2.4.2. CSS
1.2.4.3. .net
1.3. Customer Relationship
1.3.1. Patience
1.3.2. Attentiveness
1.3.3. Clear Communication Skills
1.3.4. Ability to Use "Positive Language"
1.4. Soft Skills
1.4.1. Acting as a Team Player
1.4.2. Flexibility
1.4.3. Working Well Under Pressure
1.4.4. Positive Attitude
1.5. Project Management Skills
1.5.1. Set, observe, and re-evaluate project priorities frequently
1.5.2. Take charge and know how to lead
1.5.3. An effective communicator
1.5.4. Detail-oriented
1.5.5. listen to stakeholders
2. Work Experience
2.1. June 2010 till date
2.1.1. Web Media Portals (WMP)
2.1.2. Project Manager
2.1.2.1. Establishing business relationships with customers according to our philosophy
2.1.2.2. Listening to our customer challenges to identify project requirements and allocating resources
2.1.2.3. Proactively not only solve customer requests, but offer ideas and insights to improve customer satisfaction
2.2. Feb 2005 – May 2010
2.2.1. Web Communications (WEBCOM)
2.2.2. Senior Web Developer
2.2.2.1. Designs and develops user interfaces to Internet/intranet applications
2.2.2.2. Updates job knowledge by researching new internet technologies
2.2.2.3. Supports and develops web application developers by providing advice, coaching and educational opportunities.
2.3. Feb 2000 – Jan 2005
2.3.1. Marketing Commnucations (Marcom)
2.3.2. Web Developer & Database Programmer
2.3.2.1. Maintain/develop company websites
2.3.2.2. Program custom email templates
3. Personal Details
3.1. Nagwa Abo Bakr Mohamed
3.2. 04/10/1974
3.3. Mobile: +20-100-60-55-872
4. Education
4.1. 2011
4.1.1. Project Management Diploma
4.1.2. Regional IT Institute (RITI)
4.2. 2000
4.2.1. Software Skills Development Diploma
4.2.2. Information Technology Institute (ITI)
4.3. 1999
4.3.1. Feasibility Study and projects evaluation diploma
4.3.2. Faculty of Economics and Political Sciences. . Cairo University
4.4. 1996
4.4.1. Bachelor of Economics
4.4.2. Faculty of Economics and Political Sciences. Cairo University