Lisa's Adventures in EC&I 831 Summary of Learning
by Lisa M Lane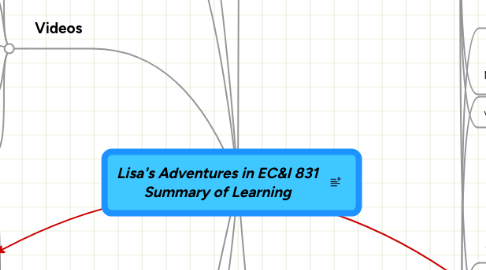 1. Summary of Learning
1.1. you're looking at it
1.2. also Pecha Kucha for Nov 30 presentation: this map here would be boring to present
2. Readings
2.1. http://bit.ly/WileyOpenness2009
2.2. http://bit.ly/EverythingRemix
2.3. Reader feed for good sources
2.4. Emerging Technologies in Distance Education
2.5. Books: Independent Reading
2.5.1. Postman: Amusing Ourselves to Death (1984)
2.5.2. Zengotita: Mediated (2005)
2.5.3. Johnson: Emergence (2001)
2.5.4. Lanier: You Are Not a Gadget (2010)
2.5.5. McLuhan: Understanding Media (1964)
3. Blog and connect with colleagues
3.1. My blog http://lisahistory.net/wpeci831
3.1.1. Pimped: Reader feeds for colleagues
3.1.2. Wordpress.org self-hosted
3.1.3. blog posts
3.1.3.1. Hamlet's Blackberry (9/16)
3.1.3.2. Pimping My Blog (9/21)
3.1.3.3. My Intro Video (9/23)
3.1.3.4. A possible response to Wiley/Hilton (9/24)
3.1.3.5. Do we need a forum? or something else? (9/28)
3.1.3.6. Semantic Web and Info Flow (9/30)
3.1.3.7. Ideas on Community (9/30)
3.1.3.8. Learning, Hype and Engagements (10/4)
3.1.3.9. Notes on Nussbaum-Beach: Traits for Connected Learners
3.1.3.10. Final Project proposal (10/8)
3.1.3.11. Digital Literacy: Apocalypse and Utopia (10/12)
3.1.3.12. Help from My Network and Chatty Students (10/13)
3.1.3.13. So Karl Marx posted on my blog (10/15)
3.1.3.14. Excerpting Mr Robinson (10/22)
3.1.3.15. I Hate(d) My Class Project (10/24)
3.1.3.16. Sharing (10/26)
3.1.3.17. Open Culture: Burke, Paine and Jaron Lanier (10/28)
3.1.3.18. Just a quick rant, I promise (10/30)
3.1.3.19. Am I a sherpa? (11/1)
3.1.3.20. The PLN thing has gotten out of hand (11/3)
3.1.3.21. Presentation, practice and pedagogy (11/10)
3.1.3.22. The (Other) Objective(s) of Education (11/12)
3.1.3.23. Another off-the-wall perspective (11/15)
3.1.3.24. I hate concept maps, so I'm doing another one (11/19)
3.1.3.25. Going to extreemes (11/26)
3.2. My intro video
3.3. verified blog with Technorati
3.4. Colleagues I've learned a lot from
3.4.1. Shawna
3.4.1.1. "If you need to cover something please get a tarp or a sheet, but don't use that word in reference to teaching and learning any more."
3.4.2. Angela....for being Angela
3.4.3. Jud
3.4.3.1. "I don't understand the appeal of using a blog, twitter or other forms of social media for much of anything. "
3.4.4. Kara for her wonderful level of awareness
3.4.5. Shelley for her transparency in implementing and discussing pedagogy
3.4.6. Jamie
3.4.6.1. "there were some other roles that kept popping into my mind as I was working with my little ones: Parent, Social Worker, Food Bank Worker, Religious Advisor, Comforter, Nurse, Friend…"
4. Final Project
4.1. History 105 Honors course design
4.1.1. probably shouldn't do class preps here
4.2. Mutimedia unit: Skills for Online Instructors
4.2.1. no, do in sabbatical next year instead
4.3. Choosing Tools for Your Online Class
4.3.1. Which tool to use to do this?
4.3.1.1. Wordpress
4.3.1.2. Posterous
4.3.1.3. Jing Pro
4.3.1.4. Snapz Pro
4.3.2. Ugh. Too boring. 10/20
4.4. Learning/Technology/Movies
4.4.1. Which tool?
4.4.1.1. Posterous
5. Synchronous meetings
5.1. 1: Intro
5.1.1. classmates from everywhere!
5.2. 2: Tool overview
5.2.1. Google Docs can be used for quick surveys
5.2.2. Bundles of feeds can be created in Google Reader and sent to a class
5.3. 3: Rick Schwier on technology
5.3.1. technology = ways of addressing needs
5.3.2. expand other people's views of ed tech -- not new
5.3.3. closed communities as paddocks
5.3.4. new metaphor of watering hole
5.3.5. how to take advantage of informal learning while still doing what's needed
5.4. 4: Sheryl Nussbaum-Beach on Learning Communities
5.4.1. Perseverance toward deep thought
5.4.2. co-learning
5.5. 5: Zoe Branigan-Pipe on Connected Teachers
5.5.1. Importance of sharing
5.6. 6: Midterm Breather
5.6.1. would like to know colleagues better
5.7. 7: Alec Couros on Open and Networked Learning
5.7.1. wonderful slides
5.7.2. challenges of PLEs
5.7.3. open content connects to open ed
5.8. 8: Dean Shareski on Digital Identity
5.8.1. moral imperative to share!
5.8.2. need to actively control own digital identity
5.9. 9: The Unsession
5.9.1. Mine and Jud's presentation on What's (Not So) Good About Social Media
5.9.2. Jamie and Angela on professional development
5.9.3. Tania Sterling on assessment during class
5.9.4. Lyn Hilt on social media as a principal
5.10. 10: Downes: Role of the Instructor in a PLE World
5.10.1. Way more roles than expected, and all apply in a non-PLE world too
5.11. 11: Will Richardson: Learning Networks
5.11.1. Can people learn everything they need to learn with informal learning? I don't think so
6. Tools and experimentation
6.1. Reader Bundle of feeds http://bit.ly/ReaderECIbundle
6.2. Twitter
6.3. Delicious
6.4. Cocomments
6.5. Ed Webb created http://ietherpad.com/HrIqgjV301 and http://new.dipity.com/edwebb/eci831
6.6. Insane search for impossible forum: nested, rich media, free, no ads
6.6.1. a bunch of weird free code
6.6.2. Tumblr with Disqus
6.6.3. Drupal Garden
6.6.4. rejected: Moodle, course wiki, Ning...
6.6.5. PW Wiki
6.7. Spoof web application for Jen
7. Videos
7.1. The Machine is Changing Us (Wesch) 9/25
7.2. Portal to Media Literacy (Wesch) 9/25
7.2.1. Michael Wesch recommended
7.2.1.1. TEDxNYED - Mike Wesch - 03/06/10 9/29
7.3. The Web As Random Acts of Kindness (Zittrain) 9/30
7.4. PLEs: The Future of Education? (Graham Atwell) 11/15
7.5. The surprising truth about what motivates us (RSA Daniel Pink) 11/26 via Rod Murray