Modern Design: What aesthetic forms are the most pleasing to a modern society? & What are the principles of modern home and landscape design that architects think about?
by CFIS Students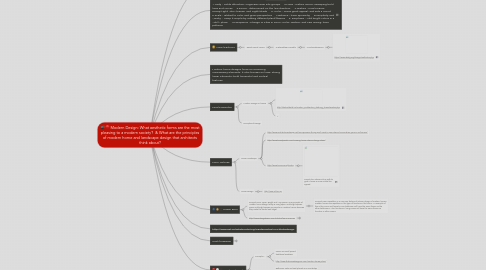 1. http://www.ext.colostate.edu/mg/Gardennotes/413.html#design
2. 1.Unity - Holds attraction, Organizes view into groups 2.Lines - Define rooms, Sweeping bold lines and curves 3.Forms - determined on the line direction 4.Texture - Fine/Coarse, Heavy/Light, Thin /Dense, and Light/Shade 5. Color - Gives great appeal, and sets a mood 6.Scale - related to color and gives perspective 7.Balance - have symmetry 8.Simplicity and Variety - Keep it simple by adding different plant/flowers 9. Emphasis - Add bright colors in a "dull" place 10.Sequence -Change or Flow in Form, Color, Texture, and Size Giving, have patterns
3. Modern home designs focus on removing unnecessary elements. It also focuses on lines, strong linear elements, bold horizontal and vertical features.
4. Annel Pacheco
4.1. -Resist Naural Forces
4.1.1. -Sustainable&Accesible
4.1.1.1. -Functional&Secure
4.1.1.1.1. https://www.wbdg.org/design/aesthetics.php
5. Noe Martinez
5.1. House Landscape
5.1.1. http://www.architecturendesign.net/35-expensive-things-youll-need-in-your-dream-house-when-youre-a-millionaire/
5.1.2. http://www.boredpanda.com/amazing-home-interior-design-ideas/
5.1.3. http://www.houzz.com/photos
5.1.3.1. People turn stones into a path to give a house a more nature like appeal.
5.2. House Design
5.2.1. http://goo.gl/SFnJju
6. Joshie Boy
6.1. Terrian
6.1.1. The Terrain usually has to be flat to make placements easier.
6.2. Modern homes usually don't look plain and have a lot of colors.
7. Hasan Rizvi
7.1. Principle One: Open, Bright and Airy spaces: One principle of Modern home design today is using open, and bright spaces. Open and bright spaces are popular in modern homes because they make the home look larger
7.1.1. Principle Two: Repetition is a common feature of interior design of modern homes. modern homes use repetition in the type of furniture in the home. An example of this is the mirror and faucet in one bathroom will have the same theme as the other bathrooms. Also, furniture in living rooms will have the same theme as furniture in other rooms.
7.2. http://www.designbasics.com/articles/less-is-more.as
7.2.1. http://www.trendir.com/house-design/
8. Nicolas Almeida
8.1. Principle 1:
8.1.1. Never use small paned traditional windows.
8.1.2. http://www.thehousedesigners.com/modern-house-plans/
8.2. Principle 2:
8.2.1. Bathroom sinks are best placed as a countertop or tabletop, or as a freestanding unit, or even hung on the wall.
8.2.2. http://www.thehousedesigners.com/articles/stylish-trendy-sinks.asp
8.3. Principle 3:
9. Nicole Reardon
9.1. Modern Design on homes
9.1.1. http://distinctbuild.ca/modern_architecture_defining_characteristics.php
9.1.2. <
9.2. Principles of Design
10. Usehf Kisswani
10.1. Principles to design
10.1.1. http://lifehacker.com/how-to-use-basic-design-principles-to-decorate-your-hom-168760778
10.1.1.1. One of the principles in design is to follow the rule of odd number meaning to put items in an odd number because it would be more appealing than an even number of items.
10.1.1.1.1. http://www.architecturecourses.org/designahouse/principles-design