Joomla! Building an open source community in South Africa
by
Sean Grant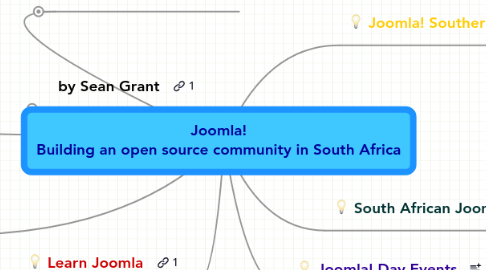 3.7
stars -
6
reviews range from
0
to
5
what?
where?
when?
who?
how?
why?
We are all Joomla enthusiasts, and would like to share ideas, support one another, refer excess work and well, just enjoy our community of Joomla Users here in Southern Africa. So here is your invitation to join the Joomla Southern African Group. This is an open list and will only be moderated to preserve the continuity of the group. So click right in and lets Joomla!
what
where
why
when
who
how
Joomla! Day is a great opportunity to learn, network with other Joomla! users and developers, and to discover ways you can contribute to the uptake of Joomla! in South Africa.
First in south africa / africa: 16 June 2007
Joomla! is broadly deployed worldwide with more than 3.5 million downloads. In its first two months, the latest release (Joomla! 1.5) has already been downloaded over 200,000 times. There are nearly 3000 extensions to the system, covering virtually every feature one might need on a site. There are also thousands of free and commercial templates. The support forum is extremely active, with 180,000 members and over 1.2 million posts!
Three events per year
Durban - 10 May 2008 [Register Now] Cape Town - 12 July 2008 Johannesburg - 18 October 2008
Day 1: Business Day
Day 1: Business Day .. will focus on topics helpful to in-house webmasters not currently using Joomla, business decision makers, marketing managers etc. This is a non-technical session focused on the business case for using Joomla. If you want to know if Joomla is suitable for your business site, this is the session for you. An overview and live demo of Joomla! 1.5.2 Case studies of actual sites that have been converted to Joomla An overview of the support (both community and commercial) that will help you to make the transition How to motivate for, and justify transitioning to Joomla
Feedback
Thanks for a great Joomla Day on Saturday I've also looked through the disk you gave us from the course ... there is a wealth of information and resource on it - thanks! Written by Lindsay Donald - sakers.co.za Jhb Thanks All is well here, thanks, a good and informative joomla day, great job, waiting for the next one. Brian Written by Brian - allyouwant.co.za
blog your thoughts
Live Video Feeds with Joomla! Core Team Members
origins
thanks
Post-event Learn Joomla! workshop
Day 2: Community Day
Day 2: User Day ..the focus will shift to the Joomla! user community. This is a technical and business session, covering topics of interest to users who install and manage web sites for themselves or clients. Joomla site security Joomla! 1.5 - migration, templating, extensions Joomla hosting - considerations, comparisons, support, services Case studies Business strategies for web developers using Joomla! www.Joomla.org.za - community is TEAM Open social structure - Questions & Answers
We run training workshops and sessions both in person and online, so would be happy to train you and/or your clients for whom you develop Joomla! websites. Learn Joomla! workshops are run over two days, from 9am - 3pm each day, in training venues in Cape Town, Midrand, Durban, Richards Bay on a monthly basis and in other centres on demand. Learn Joomla! Online: A basic orientation to Joomla! would be two hours, with a more thorough exploration taking four hours. Our current training rate is R350/hour. Please find below the Learn Joomla! outline that will provide you with a comprehensive orientation to Joomla! Day One: End Users Day Two: Administrators
Cutting Edge Content Management Flexible Simple Elegant Customizable Powerful Joomla! is one of the most powerful Open Source Content Management Systems on the planet. It is used all over the world for everything from simple websites to complex corporate applications. Joomla! is easy to install, simple to manage, and reliable. Demo Download Details
Joomla! Core Team Joomla! is led by members of the Core Team who are responsible for the overall Project Management. All working together as a single team, committed to moving Joomla! forward in the true spirit of the Open Source movement. Core Team members come from different backgrounds, a diverse array of disciplines, with varied experiences. The Core Team is also a truly global group with members located in many countries throughout the globe. This all contributes to the strength and richness of Joomla!. Biographies of current members of Core Team Honour Roll of past members of Core Team Joomla! Working Groups The Joomla! project has several Working Groups that have been created to utilise the wealth of knowledge our community provides. Each of these groups focuses on a specific aspect of Joomla! essential to the project's growth and development. As it is neither possible or healthy for the core team to be involved in every discussion and conversation regarding Joomla! development and growth these working groups are essential. With a leader or co-leader on the core team they have a built-in method of communication directly with the core team. These working groups provide an essential communication channel between the community and the core team to bring concerns to light, advocate changes, and disseminate information. More about Joomla! Working groups...
This is a great source of information about the many different flavours and innovative ways that people around the globe are interacting with the Joomla! CMS. In developing this presentation, I discovered a brand new website for FREE Joomla! tutorials: http://www.joomlaforbeginners.com/
To make it easy to find the information you need, read the profiles below and choose the one that most accurately describes your current role. This will take you to an area where the documentation is organised according to the goals that you are most likely to require help with. There is a lot of overlap in the documentation for each of these roles; they are not mutually exclusive; so just choose one that seems to be nearest to your own role even if the fit is not exact. To make these user profiles more concrete and so help writers to target the material more accurately, we are looking at creating personas for each of the profiles. Beginners As someone who has not used Joomla!, it is likely you have no clue how to get started using Joomla! Maybe you have a friend or a neighbor who uses Joomla! and you want a Joomla! Web site of your very own. Maybe you have a small business or a church or a community that needs a web presence and you want to use Joomla! for that purpose. Maybe you are a seasoned Information Technology professional, but you have no idea where to get started using Joomla!. If so, you are just starting a very enjoyable journey and we warmly welcome you to Joomla! and encourage you to use the Absolute Beginner's Guide to Joomla! Content creators As a content creator you might have only a rudimentary knowledge of Joomla! Just sufficient for you to carry out your job of writing, assembling and publishing content on the website. You will need information about how to achieve specific goals associated with content creation starting with very basic information such as how to use a WYSIWYG editor. After becoming more proficient you might benefit from information about how to make use of some of the more advanced features that will streamline routine tasks. Editors As an editor you will be responsible for reviewing the work of content creators, amending it where necessary. Publishers As a publisher you will be responsible for ensuring that content on your website is kept up-to-date and relevant to your target audience. You might commission content creators and liaise with editors to ensure consistency and good organisation of the content. Administrators As a website administrator you might be concerned about the visual appearance of a website but will pass responsibility for making changes and improvements to a web designer. Similarly, when changes to functionality are required you will contract a web developer to do the necessary work. As a website administrator you are responsible for the day-to-day operation and maintenance of the website. Activities might include ensuring that the site is properly backed up; managing user access; possibly installing extensions. You will also have responsibility for maintaining the security of the website. Web designers As a web designer you are concerned with the visual appearance and user functionality of a website. For example, you will want to know how to alter the visual style of an article but will usually not be concerned about the article content or how that content is entered and maintained. Your primary focus is the visitor experience. You will be knowledgeable about HTML and CSS but might have only rudimentary programming experience and so could need extra support when dealing with Javascript and PHP. Your knowledge of Joomla! itself may not be advanced as you may have to deal with a wide range of content management systems while working for a range of clients. You may be contracted to supply just a template or set of templates, or you may be asked to deliver a complete working website. You are likely to be increasingly concerned with issues of accessibility and will probably want to ensure that your designs pass various standard tests. Web developers As a web developer you may not be too concerned about the visual appearance of a website as you are tasked with producing functionality. You will probably have a good knowledge of HTML and CSS but will also be proficient in Javascript, PHP and a range of other languages. If you are new to Joomla! you will need support in developing or customising Joomla! extensions (components, modules, plugins, templates and languages). You will need information about the Joomla! Framework API and how to use it and will probably make extensive use of best practice example code. Developers As a developer you are tasked with altering or extending the functionality of Joomla! or one of its extensions. You will be proficient in a range of programming languages, including PHP, but may be less familiar with such things as JavaScript or CSS. If you are new to Joomla! you will need information about the Joomla! Framework API and how to use it and will probably make extensive use of best practice example code. Testers As a tester you are tasked with performing a predetermined sequence of operations in Joomla! and carefully observing and recording the results where they deviate from those expected. You may not necessarily be a developer, but you will probably be quite familiar with Joomla! itself. Translators As a translator you are tasked with translating all the discrete strings found in the Joomla! front and back-ends and creating the necessary translation files. You may not be particularly familiar with Joomla! itself and you are unlikely to have any development experience. You will need to know how to use the translation debugging mode and how to assemble your translated strings into a translation file. You might also need to know how to package translation files into an installable translation pack. Trainers As a trainer you are tasked with producing and running training courses and you will need to create training materials to support your learners. You are likely to have a thorough working knowledge of the aspects of Joomla! that are the subject of your training courses, but you might need to refresh your knowledge from time to time, especially as new developments take place. You will want to have access to ready-made training materials that you can adapt for your specific circumstances. Documentors As a documentor you have the unenviable task of creating material for a wide range of readers from beginning users to advanced professional developers. You will need to know how to use various tools (such as this wiki) and you will need to read guidelines and other meta documents. You will probably need to update those documents over time too.
Who is online (accessed 02.05.08) In total there are 789 users online :: 72 registered, 0 hidden and 717 guests (based on users active over the past 15 minutes) Most users ever online was 2459 on Thu Jun 21, 2007 4:39 pm Registered users: Stasys, ot2sen, pchardnet, Jonah, mcsmom, FaBMak, Microquant, cmyksteve, ouly, ltempest, dam-man, benini, llabrecque, lightningbit, Tribal6, herb200mph, esox, bradanders, Chrisr_1959, rainbowr, sone12, compuniac, jo_maki, osariase, kirky77, overkill, sanmao, searchsiren, mgclimber, padavis, adoreleb, gogoli, jimmer, damir.h, adam_fake, cicans, dstang01, zire, Ms. Jones, alejandra-ad, roy_joom, AppleAp, zak_the_man, Exabot [Bot], Gigabot [Bot], Google Adsense [Bot], Google Feedfetcher, Google [Bot], MSN [Bot], Yahoo [Bot], edusupport, smudgie, inlinewout, doc_flake, stylus1274, qoop, slingshotsean, dextercowley, Henke Nilsson, vidapura, Jebuz_dk, ollvin, pgibbns, AngelinaC, atakan, kukks, n00bvn, Tsadik, gabyha, iougs, ddwaner, mohanadr Legend: Development, Documentation, Foundation, Global moderators, Joomla! Core Team, Sites & Infrastructure, Translation Statistics Total posts 1284909 • Total topics 286472 • Total members 186798 • Our newest member ozzley
Joomla! Extensions Directory Serving 3027 extensions to the community. Last updated today. Admin Tools Admin Interface (27) Backup (12) Data Conversion (5) Database Management (11) File Management (8) Search Engine Friendly URLs (26) Server (8) XML (2) Ads & Affiliates Advertising Banners (88) Amazon (17) Classified Ads (17) Google Ads (22) Text Link Ads (12) Calendars & Events Calendars (31) Clocks (40) Events (57) Reservations (12) Communication Chat (29) Comments (31) Contacts (25) Forms (18) Forum (42) Guest Book (14) Help Desk (5) Mailing Lists (2) Newsletter (27) Online Status & Profile (21) PMS (10) Polls (5) Quiz (12) Recommend (10) Shoutbox (8) Content & News Blog (29) Content Management (183) eCards (3) Images (61) Maps (16) News (74) Quotes (11) Ratings & Reviews (17) Related Items (17) RSS (50) Tips & Notes (26) Weather (23) Core Enhancements Accessibility (33) Cache (7) Categories/Sections (27) Credits (5) Group Access (25) Menu Systems (52) Multiple Sites (14) Security (41) User Management (69) Documentation Bibliography (4) Downloads (22) FAQ (8) Glossary & Dictionary (14) Wiki (8) e-Commerce Auction (7) Data Interchange (EDI) (20) Donations (11) Payment Systems (17) Shopping Cart (28) Subscriptions (15) Extension Specific Plugin AdsManager Plugins (10) Artio JoomSEF Plugins (35) BannersManager Plugins (5) Community Builder Plugins (120) dcsFlashGames Plugins (9) DOCMan Plugins (18) ECJC Plugins (5) Fireboard Forum Plugins (19) Freeway extensions (10) JCE Plugins (16) Joom!Fish Plugins (11) JoomLeague Plugins (9) PUArcade Plugins (19) SEF Service Map Plugins (9) SOBI2 Plugins (21) VirtueMart Plugins (68) Gallery & Multimedia Gallery (136) Podcasting (9) Streaming Media (114) Intranet & Groupware CRM (6) LDAP (1) Progress (3) Project & Task Management (8) Languages Multi-lingual Content (24) Translations for Joomla (88) Miscellaneous Custom Code (47) Development Tools (31) Personal Life (13) Portfolio (11) Religion (16) Social Bookmarking (44) Sports & Games (40) Search & Indexing Directory (42) Search (78) Site Map (14) Statistics Ranks (13) Reporting (9) Site Analytics (13) Visitors (36) Tools Standalone Servers (6) Vertical Markets Auto & Vehicles (11) Boat & Yachting (4) Books & Libraries (10) Education (12) Food & Beverage (9) Real Estate (36) WYSIWYG Editors Editor Buttons (14)
Welcome to the Joomla! Development Web site! There is always a great deal of activity underway and communicating with other developers in the community is a high priority. Here, you will find announcements from Wilco Jansen and Andrew Eddie, Joomla! Development Working Group Coordinators. They will share a wide variety of information, ranging from tips on upcoming releases, calls for White Papers, priorities, requests for your assistance, and notifications of development events in which you can participate. This site is also a great source for learning of the activities of the Joomla! Development Working Group, including both the Joomla! Development Team and the Joomla! Bug Squad. In addition, you can learn about the Google Summer of Code projects. You are invited to participate with the Joomla! Development Working Group Coordinators, Development Team, Bug Squad, and the Google Summer of Code project teams. Please take time to read and comment on these blogs. Your support is appreciated!
Downloads
Questions
About this Presentation?
About the Joomla! CMS?
About the Joomla! Southern African Portal?
About Joomla! Day South Africa?
About Learn Joomla! ?
Conclusion
Education
Enterprise
Entrepreneurial
eEnabling
Empowerment