HOW DO YOU OBTAIN SUCCESS AT AN INTERVIEW?
by 2 smooth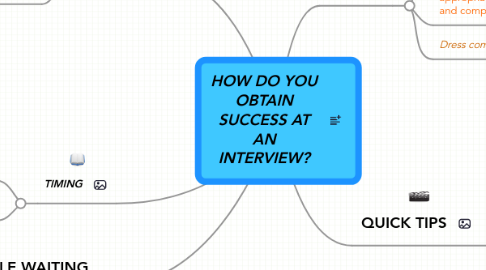 1. SPEECH
1.1. Dont drag out words, proper tone, and make eye contact
1.2. Talk professional and stay away from words that you dont know the meaning of
2. TIMING
2.1. Arrive half an hour earlier for your interview
2.1.1. Be sure to add in possible traffic problems
2.1.1.1. Take quickest route
2.2. Plan everything a day ahead
3. WHILE WAITING
3.1. Look confident and busy
3.1.1. Bring something to, even if it's just writing notes in a book. And don't slouch.
3.2. Pay attention.
3.2.1. It is vital that you listen to the interviewer
3.3. Relax
3.3.1. Be patient
4. ATTIRE
4.1. Make sure your suit is clean, shirt ironed, and shoes polished
4.2. Select clothes that are appropriate for the industry and company
4.3. Dress comfortable
5. QUICK TIPS
5.1. Identify your key skills and accomplishments.
5.2. Research the company.
5.2.1. Try to find out as much as possible what they're looking for to see if you're a good match.
5.2.2. Know who the officers of the company are
5.2.3. Even before applying, learn all you can about this particular organization and the field
5.3. Get references and letters of recommendation.
5.4. Practice the interview
5.4.1. How do you define success?
5.4.2. Why would you be good for our company?
5.4.3. What's the most difficult challenge you've overcome on a job?
5.4.3.1. Offline Mode
5.4.3.2. Geistesblitz Tools
5.4.3.3. Email & SMS Gateways