Krishnamurthy Lakshminarayana
by
Krishnamurthy L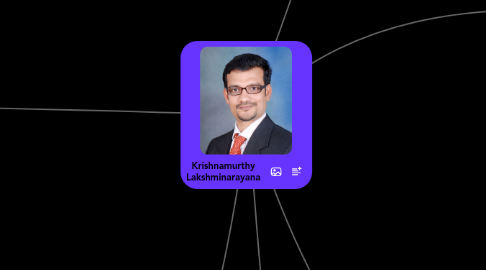 0.0
stars -
0
reviews range from
0
to
5
Krishnamurthy Lakshminarayana
This is just a demo map that you can delete right away, if you feel like it...
Who am i?
Interests
Date of Birth
25.July.1975
Contact
Email:
City: Bangalore, India
LinkedIn, http://www.linkedin.com/in/krishl
Facebook, http://www.facebook.com/krishl
Twitter, http://twitter.com/KrishPro
Proficient Skills
Business
New node
Technology
Servers
Work Experience
Companies
Siemens
NSN, Apr.2006 to date
India Comnet International, Nov.2003 to Mar.2006
Alcatel Development Center, Chennai, Apr'00 to Oct'03
SIMOS Computers
Roles
Project Manager
Service Manager
Solid Line Manager
Core Technical Manager
IT Architect
SCM Manager
Achievements
Projects
Recommendations
Sendhilraj Chandrasekaran
Reference Date, August 16, 2008
Relationship:, worked directly at Alcatel, Chennai
Recommendation:, I've known Krish for many years now; His quest for knowledge also to stay abreast of latest developments in his domain/technology has helped him keep the saw sharp. He has a penchant for customer delight that has paved way for several automations. He is like a duck on water when it comes to handling pressure - No matter how much a duck paddles under water, it always appear calm on the surface.
Nagarajan Chandreskaran
Reference Date, April 18, 2008
Relationship:, worked directly at Comnet International
Recommendation:, Krish is cheerful and very technical to work with. I have had good amount of discussions to try and arrive solutions pertaining to Rational suite of products and Krish was always on top with immediate solutions. His down to earth attitude made him accessible by the entire group and Krish's timely suggestions help solved critical blockers on time. Any issues on Rational products I recommend to reach out to Krish - and challenge me if Krish cant solve the problem :)
Subramonian Murugan
Reference Date, January 20, 2008
Relationship:, worked directly at Alcatel, Chennai
Recommendation:, Krish's way of working was differs from his other colleagues. His contribution on Oracle db and Apps deployment in Alcatel was excellent and met the goal before the target. Appreciate his scripting knowledge. On top of that he will respect human beings and this can not be counted....... EXCELLENT KRISH.......
GnanaPrasad Yayavaram
Reference Date, March 5, 2008
Relationship:, hired Krishnamurthy as a IT Consultant in 1995, and hired Krishnamurthy more than once
Recommendation:, When my Organisation is in deep destress and wague in IT stratagies his intervention and guidance were never to be forgotton. The Novel became stable and Windows NT explored & implimented when none of our near by IT companies not just thought off. The hardware support and Line Printer configuration (at that point of time, that was the critical - Bapreee) all amazing. If there is a choice for me to award "Software Sachin" I will be very much Delighted!!!!
Vijayasekhar R
Reference Date, February 21, 2008
Relationship:, hired Krishnamurthy as a IT Consultant in 1993
Recommendation:, We had good time when we are working in the organisation and where we worked in a remote village try to work on IT hardware installation for the company.
Vakayil Thobias
Reference Date, May 28, 2008
Relationship:, worked indirectly for Krishnamurthy at Alcatel, Chennai
Recommendation:, He is very good in Technical activities. He is an expert in clearcase, solaris admin, shell scripting, etc. Good analytical skill. Excellent in solving technical problems.
Goals
Accolade
Master of Business Administration in Systems
Bachelor of Computer Applications
Associate Members of Institution of Engineers, Section-A
Diploma in Electronics & Communications Engineering
Certifications
Certified Project Management Professional
Certified on ITIL v3
SUN Certified Solaris Engineer
Microsoft Certified Systems Engineer
Trainings
Pre-Sales and Writing Winning Proposals by CELTEM, PMI-REP.
Enterprise DBA from Oracle
Advanced Clearcase Administration
'Think Customer' from Mercuri Goldmann