GAFE Google Apps For Education Info for rollout
by Jennifer Bishop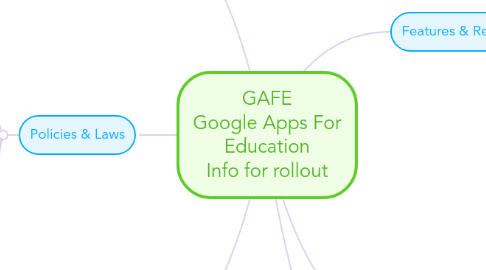 1. Purpose
1.1. Offer tools for communication and collaboration with teachers and students along with the ability to track and view progress on student projects.
2. Features & Restrictions
2.1. Classroom
2.1.1. Google Classroom is mission control, designed with teachers and students to connect the class, track their progress and achieve more together.
2.2. Gmail
2.2.1. Allows students to send and receive emails to others within the Saco School domain
2.3. Calendar
2.3.1. A calendar that can be used to enter events with the potential to be shared with others.
2.4. Drive
2.4.1. Online storage for all types of files
2.4.2. Easily share files
2.5. Docs Suite - Document creation and management tools
2.5.1. Docs
2.5.1.1. Word processing
2.5.2. Forms
2.5.2.1. Online surveys & quizzes
2.5.3. Drawings
2.5.3.1. Graphics & Images
2.5.4. Sheets
2.5.4.1. Spreadsheets application
2.5.5. Slides
2.5.5.1. Slide decks & presentations
2.6. Other GAFE
3. Policies & Laws
3.1. Saco School Department
3.1.1. Student Computer and Internet Use (Policy IJNDB)
3.1.2. Student Computer & Internet Use Rule (Policy IJNDB-R)
3.1.3. Saco Middle School iPad Policy
3.2. Children's Internet Protection Act (CIPA)
3.2.1. The school district is required by CIPA to have technology measures and policies in place that protect students from harmful materials including those that are obscene and pornographic. This means that student Internet access is filtered. Websites containing harmful content from inappropriate sites will be blocked.
3.3. Children's Online Privacy Protection Act (COPPA)
3.3.1. COPPA applies to commercial companies and limits their ability to collect personal information from children under 13. By default, Google advertising is turned off for Apps for Education users. No personal student information is collected for commercial purposes.
3.4. Family Educational Rights and Privacy Act (FERPA)
3.4.1. A Federal law that protects the privacy of student education records. (20 U.S.C. § 1232g; 34 CFR Part 99)
4. Restrictions
4.1. Does NOT allow any external emails to be sent or received
4.2. No access to Google Hangouts
4.3. No access to Google+
4.4. No access to Google Sites
5. Process
5.1. All students in grades K-12 will be given Google accounts. However, at this time students in grades 6 - 8 will be the primary users.
6. Access
6.1. Usernames convention