Learning & Technology Plan> 5 Learning Outcomes
by
Mr Carpenter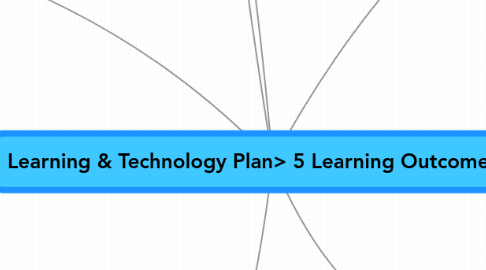 5.0
stars -
1
reviews range from
0
to
5
Learning & Technology Plan> 5 Learning Outcomes
Our Learning Supported By Technology Plan 1 Year and 3 Years out in our goal-setting. Paint picture of our graduating students reaching each learning outcome to a strong degree. How will ICL & Technology be integrated into the 3 primary areas? How will we design an ongoing professional learning environment that helps us reach our goals?  
Demonstration of Mastery
Writing
Essays
Proposals
Speaking
Public Presentation
Podcast
Visual
Video
Slideshow
Presentation
Web Site
Curriculum (Instruction & Assessment)
Project Model
We use case studies involving student research with final projects showing learning to audience.
Inquiry Model
We use Expeditions as our framework to pursue the answers to our questions. The following technologies can suport this instructional model: -WebQuests for guided research -Mindmeister & Bubbl for mind maps to record understanding & questions
Multiple Intelligences Approach
Cooperative Learning Approach
HIS Community
Cooperative Learning Skills
Outside HIS to Flatten Classrooms
Direct Instruction Model
-Projectors
Other Models
4MAT Approach
Teaching Techniques Across All Models
Marzano's Instruction That Works
Differentiation
Jigsaws
Simulations
Information & Communication Literacy
2008-09: Focus ICL integration in LA and Humanities courses.
New Student Orientation to Learning at HIS
7th Grade Technology Class
8-12 New Students Start of Year
New Student Past Start of Year
7th Grade LearningQuest
Student & Educator Blogs
Importance of Easy Navigation
Standards
One option is to show evidence of reaching the standards for each discipline.
Role of Digital Portfolio-Purpose
Institute 1 Exhibition
Public Summary of Students' Progress
Organization
How To Get Students to Value
Different Portfolios for Different Purposes?
Use for Student-led Conferences
Delivery Tool
Use for continued 10th & 12 Learning Outcome Reflection
Assessment of Student Learning
Except for user web pages, this website is maintained by webmasters (which may include some specific students) http://secondary.hisdomain.hdis.hc.edu.tw/ /Volumes/XserveRAID1/pub_html/
People
Individual Web pages are maintained completely by individual users. http://secondary.hisdomain.hdis.hc.edu.tw/~UserName/ /Users/UserName/Sites/
Students, Name, Blog, Portfolio, ...
Teachers, Name, Bio, Contact Info, Blog, Link to Moodle Classes, Portfolio
Staff, Name, Bio, Contact Info
News Blog
I have seen at least two ways to effectively use blogs: (1) reflection: like a journal, students and educator can reflect about various topics and collect feedback from the community. (2) news: some blogs are dedicated to presenting news of a particular kind.  The advantage of using blogs for news instead of a regular webpage is that again, the community can participate.  We could use this aspect in at least two different places: (2a) Some teachers might want to use blogs to give news about their classes: what they are doing, how it's going, homework, projects, ... (2b) We could have an HIS main blog where educators and faculty give news relating to HIS in general.  This could be a replacement for the news letter.  The three advantages are that it would decentralize the source of information, it would empower teachers to share about their contribution to the community at large, and it would allow the community to participate by leaving comments.
Wiki
For Parents
News Letters
Curriculum, Intro, Curriculum Maps
Introduction to Moodle
Computer Use
...
Learning Community & Information
Reflection & Understanding
Student & Educator E-Portfolios
Community Connection
HIS Web Site
HIS News Blog
Educator Blogs
Virtual Library
Moodle
Multimedia Delivery, Procedures and Protocols
Course Management System
Moodle
Curriculum Map
Ethical & Healthy Use of Technology
Responsible & Healthy Use Plan
Student Information System (SIS)
Grading
Attendance
Contact Info
Billing
Online Learning
Virtual High School courses
Technology Infrastructure
Server File Tree
Files on the server are only accessible for users with an account (faculties and students).   Internal IP: 192.168.1.250 External IP: 163.19.137.237  
/, Applications/, Library/, ..., Users ->
XserveRAID1/, Podcast/, users/, UserName/, wiki, ..., HomePage/, ..., index.html, wiki/, .wiki/, Admin_Folders/, FinancialFiles/, SecondaryAdministrationFiles/, ..., SysAdmin/, Moodle Backup, wiki_template, Software, WikiBackup
XserveRAID2/, (Moodle)
Accounts for Students
gmail
moodle
blogger
...
I moved this to the HIS Wiki
Student Information System
For additional information see Server File Tree above:   XserveRAID1/Faculty/Shared/ StudentInformationFiles/
Wireless Connectivity
Laptop Support
Workstation Support
Moodle Managment
Blogger Oversight
Leadership Team Phone/PDA
Projectors
Cameras
Vision Thing!
What can we see down the road with instruction and assesment that ICL and technology can hopefully support?
Communication
School Portal