Symposium: Het werkt! van onderwijsidee naar uitvoering -- From education idea to reality
by
Paul de Roos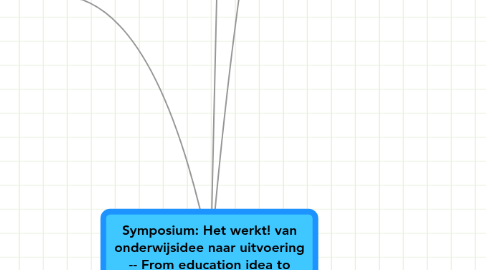 0.0
stars - reviews range from
0
to
5
Symposium: Het werkt! van onderwijsidee naar uitvoering -- From education idea to reality
Keynote
Prof. dr. Marleen Huysman
New node
Management perspective
Economy, Business sciences
"we already share knowledge, yet managing it is often an obstacle"
Expert in sharing knowledge
Presentation
Knowledge, Data, information, What you do with information + data
Knowledge, Usually distributed
Management problem, How to integrate knowledge in organsation, People are developing the "wheel" in different contexts within organisation, "Knowledge management"
3 problems, "Local learning trap", Management focuses on making people smarter, vs: how can we make the organisation smarter, "ICT trap", Work 2.0, ICT implementations, VS: checking if there's a need / motivation, "Management trap", Steering from top to down to "share knowledge", ICT view, electronical networking, No attention focus on factors that promote sharing of knowledge
Factors influencing sharing of knowledge, Group / organisation, Competitive culture, psychological safety and trust, shared mission and passion, sense of urgency, Sharing knowledge between experts / newcomers, status and dominant experts, perception of knowledge not relevant to others, "Tacit vs explicit", Difficulty to understand others' "ignorance", Higher educated, the higher educated the poorer the sharing of knowledge, Not invented here syndrome, professional vs organisational identity, Difficulty with learning, Teaching smart people how to learn, obstruct single and double loop learning, example from IT, Basic frame of reference, I do my job as I have learned to do it, I don't do anything else, therwise they need to pay me more, Consequence of frame, I am a skilled programmer if something goes worng, I can fix the code, Feedback, complaintsby customers; "programmers do not really listen to us", Single loop, learn from consequence, Double loop, learn from basic frame of reference, High level of sharing: Communities of practice, Social informal groups, Social embeddedness, sharing knowledge and social capital, Structural dimension, knowing who has which knowledge, investigational approach, network analysis, how strong is the community?, Cognitive dimension, Sharing stories, "cognitive distance", Relational dimension, ?, "Embeddedness in practice", Is the knowledge being shared relevant for daily practice, IS a shared background knowledge necesary to translate the shared community knowledge to a local practice, shared interest, shared practice, Communities are not a holy grail, Management paradox, too much management is an obstacle to self organisatiopn, too little management leads to less organizational learning, community trap, Communities are homogeneous networks: obstacle to innovation, blinding, no opportunities for different interpretations, .. missed this part of slide, Levels of sharing knowledge, picture, Sharing of knowledge on syntactic level (knowledge transer) - lowest level, sharing in shared practice of interst, Management intervention: bringing groups together via IT or workshops, Semantic level, Potential shared interest, no shared practice, management intervention:, technical residents, intermediary, boundary spanners, Pragmatic level, no shared practice and no shared agendas, management interventions, creation of communities through creation of joint projects
Mobiel leren 1
Podcast (Jochen Bretschneider)
KNO arts, VUmc, Otolaryngologist
E-learning projectleider
PODcast project, Iphone, Itunes, LArge database educational material
PODcast, IPOD, BroadCAST
Would you like to use PODcasts from your teachers?, students say yes
Study material, Study books, Digital life, Combination: PODcast
AWESOME presentation Jochen!!
Medical Education, Teachers are specialist, Busy busy busy, PODcasts in ITunes availble, a solution?, portable, RSS sign up
Creativity, Idea, Content
Student survey, March 2010, 27% Smart phone, 72% regular phone
Technical, Video recoring, Mobile phone, two lamps, a screen, Software: Final Cut, Audio, Software: Garageband
Publishing, ITunes, KNO VUmc, ITunes U, Google, KNO + Google, Twitter
Weblectures (Linda Mebus)
Contents, Different shapes, student survey on mobile services (Nationale Studenten Enquete), 27% of the students have a smart phone, 29% of the students want weblectures on their phones, status quo at university, Michel Jansen, Rob Leeuwen en Linda Mebus, Course on Weblectures for teachers, Advies over evaluatie weblectures, Thema site weblectures, ca 500 lectures digital allready, Pilot OASE project @ FSW, Where to go?, ondersteuning bij didactische aspecten van onderwijscentrum, UBVU, for allready recorded lectures, Videoconferencing possibillities
Education Center VU, Mediasite, Video of teacher, Slides, Slidecast, Future, Support of projectes, Podcasting via SURFmedia, iTunesU for VU, start up in auditorium on 4th ofNovember 15:00, Cheaper alternative for Mediasite, Which variants, Wishes of teachers, Merlijn Kauffman (MEdia Experience)
Ipad's (Willem Jan van Zeist)
ipad plan scheikunde, Ondersteuning vanuit onderwijscentrum, ipad voor de eerste jaars, in bruikleen, na graduation cadeau, Laat de studenten uitvinden wat de mogelijkheden zijn
Uses, instructievideos, helpt bij voorbereiding, meer focus op lastige punten bij begeleider, naslagwerk, Visuele aspect bij veiligheidsinstructies, milieu en veiligheidshandboek beschikbaar als e-pub, gebruik tijdens colleges, e-studieboeken, weblectures, Applicaties, Blackboard app wordt aan gewerkt, veel gratis scheikunde apps te vinden in de appstore, Er zijn de eerste stappen tot een eigen app
Why Ipad?, draagbaar, lange batteriduurj, Hip voor studenten, soepel te gebruiken
Future, evaluaties, hopen op meer digitale content, werken aan digitale content (weblectures), distributie opzetten (SURFmedia/Itunes U)
Digital learning and voting in classroom
Ankie Vink - online course
Introduction, Digital study programme, Vocational students, Physical therapy students, Pre-master preparation, Digital course shortens pre-master programme, Topics in digital study programme, All topics of bachelor, demo, www.schakelbw.nl, http://demo.schakelbw.nl, Structure, Content, chapters, tasks, diagnostic assessment, Tools for supervision, planning module, coaching module, calendar, Learning environment, Tools for content supervision, Forum, FAQ, Tools for communication, messaging function
Course: Clinical movement analysis, Central question, missed., 9 plenary lectures, 4 guest lectures, 4 practical assignments, Assessment
Project objective, Turn the course into a digital course, New node, Motivation, substitution of two courses, Increase attractiveness of digital programme, English language course
Focus, design and development of digital content, substitute plenary lectures, substitute practical assignments
Outside focus, Contents are established, shaping the digital learning environment, Support structure, translation
Quality, possible to study on a distance, to be combined with a full time vocational study, flexible, limited size/scope of project, limited possibilities of ICT (Moodle, LEarneXact, QMP, Blackboard), Teacher use, Costs
Design phase, Educational material, introduction, Chapters, book, Weblectures, Cut into pieces, modular, assignments, Diagnostic tests, Practical assignments, Feedback on assignments, Handing in assignments, Platform used: Moodle, Structure of supervision, Forum & FAQ, Virtual class room, Webcam, TEacher, Students can ask questions, Interaction
In practice, English language course, Web Classes, website, http://www.schakelbw.nl, Images, picture, picture, picture, picture, picture
Charlotte van Hooijdonk - May I have your votes please - making your votes interactive
Grassroots project
Topics, Language , Media and communication, first year, 8 weeks, group size, 100, Introduction in major themes
Curriculum innovation, not happy with how things were, Motivating courses needed, two modules, Module A, language as a media phenomenon, Module B, new media, information and communication, Historical perspective, how did our use of media change through history
How to make our classes attractive and interactive?
Course objectvies, gives students an overview of central themes of the curriculum, creation of enthusiasm
Course outline, Plenary lectures twice a week, 1. explanation / backgrounds on study material, 2. processing the study material, Interaction, Twitter, #TMCVU10, Twitter fountain in class, Questionbank, Students make questions, Every week students create 2 questions, Feedback on quality of questions, Part of the questions gets addressed during 2nd lecture, A percentage of the questions will return in the final exam, high quality questions are more likely to return, Voting in class, individual votes, team votes, students discuss with each other prior to voting
Imke Limpens - EMP Assessment and evaluation: information skills
EMP Project, Professionalisation of course "Information skills", Duration january 2009 - september 2010, 1 FTE, Final report available through Education Center VU, EMP = Educatieve Media Pool
Project results, Module information skils for researchers, Information site for teachers, Information skills in Ba-curriculum, Upgrade webcourses, Assessment service
Information site for teachers, example, picture, Library: be like a spide in a web for teachers, http://kennisbank.ubvu.vu.nl/object/default.asp?lettergr=klein&object_id=1
Assessment Service, >300 assessment questions, online availbale, different levels of knowledge, Different fields of knowledge, Assignments, Service for teachers, Available through blackboard
Embedded in Ba-curricula, Which faculties?, Are we delivering the right service?, Can we improve this?
follow up:, Intventory of wishes for Master phases and guidance on master thesis, Support with shaping and execution of education, continuing development of course material
Restructuring education by Peter Kerkhof & Thea van Lankveld
3rd restructuring since 2002
rendement went up (60% herinschrijvers na 4 jaar diploma), restructuring by using longer courses (10 ECTS), evaluation was not to good, experience was valuable
studenttevredenheid benedengemiddeld (lager dan VU-niveau)
Onevenredige groei, groot wordt groter betaling loopt achter, grotere financiele achterstanden
Con's: new dean, financial loss,
Voorbereiding
betere managementinformatie
rendementscommissie
onderzoek kleinschalig onderwijs bij grote opleidingen(by onderwijscentrum)
Start: November 2009
Programmaherzieningscommissie (15 leden: Portefeuillehouder Onderwijs (voorzitter), decaan, onderwijsmanagers, afdelingshoofden studentlid, onderwijsbureau etc.)
dec 2009 - sept 2010, 10 meetings, werkgroepen
Uitgangspunten
beter onderwijs door zuiniger inzetten van middelen, meer samenwerking tussen opleidingen en docenten, zuiniger = minder aanbod EC's (-15-20%) door meer samenwerking kleine opleidingen met grotere opleidingen, per docent minder EC's
Hoger rendement, invoering van het BSA
Hogere studenttevredenheid, motivatie op basis van keuze van de student, bevestigen van de keuze i.p.v. beginnen met algemene academische vaardigheden
vaardighedenonderwijs herstructureren in leerlijnen
Profileringsruimte behouden, 30 EC vrijgerooster voor stage, keuzevakken, minoren
4 B's
Boeien, Didactische vormgeving, Problemen 1e jaar, wil ik dit wel? te laat besef, uitval is een groot probleem. oorzaken: onpersoonlijk, moeilijk vrienden te maken, grootschalig, Ik ken hier niemand, Uitdagingen, goede mix HC en kleine WG, boeiend en activerend onderwijs, in 14 uur per week, oplossing, opleidingslint, naast curriculumvakken ook langlopende werkgroepen, begeleid door 1 zelfde docent en studentass. voor 1 tot 2 semesters, Zorgt voor meer contact tussen studenten, Werkgroep moet uitdagende opdrachten hebben, integrale opdrachten van 2 parallelle vakken, Basisvaardigheden, minimaal 2 papers schrijven, schrijfatelier (wat zijn de eisen en vaardigheden voor het schrijven?), mentoraat, onderzoekje, cultuur van onderzoek, congres met presentatie van onderzoek, studenten worden serieus genomen in het ontwikkelen van kennis, Vakgebiedsvaardigheden, Doel: Hoe ziet de opleiding er echt uit? Hoe ziet het vakgebied er eigenlijk uit?
Binden, I amFSW ; groepsgevoel, thuis voelen op de universiteit
Bekwamen
Bezuinigen
Volgende stap
De waarde van verandering is bij ons wel bekend, nu moet de meerderheid nog volgen!
Hoe wordt de kwaliteit van onderwijs?
Is sociale media een manier om de community te creeeren?, lastig om dit opleidingsbreed te realiseren, maar dit zou wel per vak kunnen
Hoe wordt de studenttevredenheid?
Het proces
Voorbereiding door onderzoek, risico: nadruk ligt op bezuiningen =>makkelijk te meten
Schema is overzichtelijk, wekt ook discussie op
Werkgroepen, zelf problemen oplossen binnen de randvoorwaarden, bottom-up approach
Digitaal toetsen door Frans Feldberg
Doelstellingen
mogelijkheden om op grote schaal efficient en effectief te toetsen
betere voorbereiding op tentamen door splitsing MC en OV
case
2e jaar BA Bedrijfskunde, logistics and information, paper en tentamen, 450 studenten
uitdagingen, geen plek op de VU om te huisvesten; max 100 simultaan, alleen in avonduren voor 240 studenten tegelijk plek, 2 shifts, 4 zalen, 2 verschillende pc-omgevingen, Invoeren van MC vragen in database, Inlogprocedures, netwerk, toetsomgeving, instructiedocumenten, Pilot per faculteit, Coordineren surveillanten (ervaren/onervaren) meer surveillanten per student dan bij normaal tentamen, instructies, Communicatie naar studenten (wie, waar, hoe laat?), aanmaken toetsen op student/shift, reserve accounts, studenten met extra tijd, moet allemaal ingevoerd worden, backup scenario (het blijft techniek)
tentamen, mondelinge instructie studenten, beheer van reserve accounts, per ruimte/locatie 'application adminitrator', om direct applicatiegerichte problemen op te lossen, probleemgevallen helpen
na het tentamen, downloaden van de resultaten, analyse van resultaten, inzage: afdrukken alle resultaten, per persoon op aanvraag
evaluatie, gemiddeld 3 v/d 5 likertschaal (1 groep +, een groep - )
Learnings
voorbereiding zeer intensief
spreiding tussen faculteiten vergt veel coordinatie
ondersteuning OC en UC-IT is een voorwaarde
aandachtspunten, veiligheid, uploaden resultaten; wat als het misgaat?, toets tussendoor pauze zetten en op een andere locatie afmaken?, markeren van vragen
Helpdesk korte lijnen helpen
MC en OV in 1 sessie? Plannen? Eerst MC en dan door naar OV?, Hertentamen?
Bestaande administratieve procedures moeten worden herzien
Wekelijkse toetsen door Martijn Meeter
toetsen tijdens de cursus
geen geld voor werkgroepen, met digitale middelen 450 studenten bereiken
Hoe krijg je ze eerder aan het werk? door tussendoor te toetsen
twee verschillende manieren van toetsen, Blackboard, Alles kan zelf gedaan worden, QuestionMark Perception, Item informatie per student, per vraag, per invoer, Loopt niet vast (BB loopt vast bij verschillende acties) Student kan opnieuw inloggen
Hoe gaat het in z'n werk?, Inloggen met nieuwe account (studnr + ww), MC vragen, waarbij terug kan worden gegaan naar vorige vragen, tijdslimiet, je kan niet opzoeken, omdat daar geen tijd voor is, Alleen zichtbaar wat fout is, niet wat goed was
Toetsen maken, Docent, Elke student krijgt dus andere vragen, Vragenpools vanuit uitgevers (50 vragen). Random vragen trekken uit pool (1500 vragen), Onderwijscentrum, toetsen creeren uit pools, plannen, student, deadline, 2 pogingen
Vervangt 15% van het cijfer (is een gok, hoe hoger het percentage, hoe hoger slagings%, te laag is weinig participatie), grens verschuift van 5,5 naar 5,06 bij 8 op toetsen, studenten doen het, tevreden ondanks fouten, hebberig voor een beter cijfer? of is het de juiste methode vroeg met de stof bezig te zijn?, Meeste studenten doen alle toetsen, mensen die ophouden stoppen meestal met studie, slagings% van 50 naar 72% (met toetscijfers 80%) omdat ze meteen beginnen met werken ipv op het eind van het vak
debateren met studenten
Digitaal moeilijk op te zeten, dus reallife, debaters voor in de collegezaal zetten en laten discussieren, voorstanders 2 minuten, + reactie, tegenstanders 2 minuten, + reactie, stemmingen voor en na het debat
Vb, ouders hebben geen invloed op kinderen behalve in het genpakket