STUDENT
by
arthur green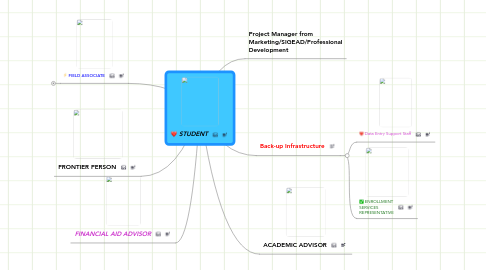 0.0
stars -
0
reviews range from
0
to
5
STUDENT
       Meet Jane. She lives in Colorado. Over the last several months Jane has been staring at the completed application for admission sitting on her desk. "Today", she says confidently, this gets mailed to Fischler". This is a big step for Jane and she knows it. But from all she's learned about Fischler she is certain she is not walking alone. What inspired this confidence? Here are just a few things about Fischler that impressed Jane:            1. Whether a prospect for undergraduate, masters, ed. specialist, doctoral, or professional development at Fischler each Fischler student has his or her own personalized "home team".         2. That her "home team", The North Central Region Team, 1 of 7 regional teams nationally, has been in continuous contact with her since the evening of the Fischler open house she attended. She's even met with a Fischler rep. for coffee right in her own favorite neighborhood coffeehouse.         3. That her home team, including a field associate, a frontier person, a financial aid counselor, an enrollment counselor and an academic advisor, will follow her from prospect status to alum status, every step of the way.         4. That her home team will be flat (nonheirarchical) and flexible and will function based on her needs not the needs of some institution;         5. That the sharing of information and updates on her status will be a core value of her "home team" so everyone on her team will know what she knows.         6. That her "home team" will include infrastructure staff at  Fischler's N. Miami Beach campus thereby assuring that the infrastructure, technology, marketing and intelligence necessary for Jane to succeed will be accessible and user friendly.         7. That Jane's "home team" will hold regular and mandatory sharing sessions focused on her thereby assuring its accountability to her.        With her application now finally in the mail, Jane awaits the next step.   
FIELD ASSOCIATE
     Meet Mary. She is one of Fischler's 62 Field Associates. Like Jane, Mary lives in Colorado. Mary met Jane when she worked with Rebecca at the open house Rebecca threw several months ago. Mary was actually the one that submitted Jane's name to Sue for entry into FAST after that event. She sensed Fischler would be the right match for Jane. Mary has called Jane sporatically to stay in touch. She even met Jane for coffee once just to talk.       For Mary "just to talk" can mean handing a prospect an application and guiding that prospect through the form. That's what Mary did with Jane over coffee. Mary had spoken with Jose who sensed Jane was "ready" and she was. Mary does this for all the Fischler people in her region. She's a "handholder"  Irrespective of program or modality, Mary knows that every student, at some point. some more than others, needs Mary "hands on" support. Mary's been there herself ; she knows how difficulty this process is and she loves to help. She loves too knowing that she can turn to her teammates and any of Fischler's Frontiers when "her hands" alone are not enough.  
All field Associates
FINANCIAL AID ADVISOR
    Meet Jerry. Few students get through Fischler without Jerry's advise. Sometimes the advise comes directly from Jerry sometimes it comes through one of Jerry's teammates. Either way, whether a student can get that degree often turns on the money and Jerry knows that all too well.      Jerry met Jane briefly when they spoke at that open house months back. Since then most of his financial aid advise for Jane has been indirect, through Mary and Jose. Jerry knows they have "Jane's" back on this issue. But as a member of the North Central Region Team, Jerry is there for Jane and he will continue to be there for her and her Student Success Team" semester after semester, guiding them through the financial aid maze. 
Back-up Infrastructure
This is the hub of all recruitment information.The back-up infrastructure will provide the "net" to close the gap (follow up) on each student from prospect through alum. It is a three tiered system. The first tier of the back-up infrastructure is the Data Entry Support Staff member. The second tier is the Student Enrollment Advisor. The third is the Coach.  The back-up infrastructure will team horizontally within each tier. Members of each tier will also team vertically with Frontier/Field Associate/Financial Aid advisor to provide the total wrap around services and ongoing constant communication and support each student needs across all recruitment efforts.
Data Entry Support Staff
      Meet Sue. As a member of the Data Entry Team, Sue is tasked with the entering of all relevant data into the various information systems at Fischler including but not limited to FAST, Banner, Hobson, and NetSearch.  As a Data Entry team member Sue will input data from all sources including leads from the Frontier people and Field Associates. Sue will also run prospect and applicant reports on a daily basis for follow-up by Frontier/Field Associate/Backup Infrastruture.        Sue is also a member of Fischler's North Central Region Team, Jane's "Student Success Team". As such she will enter the data reflecting Jane's new applicant status. She knows this new status reflects the hard work and determination of both Jane and Jane's  "Student Success Team".      While data about every Fischler prospect/student is relevant to Sue, as a member of Jane's "Student Success Team" Sue appreciates that she will likely be connecting with North Central Team members about Jane often over the months and years to come and, may well, at some future point connect directly with Jane herself.
ENROLLMENT SERVICES REPRESENTATIVE
    Meet Jose. As a Student Enrollment Advisor, Jose is one of Fischler's  academic and student service experts. As a member of the Student Enrollment Advisory Team, Jose, is first line of contact with a prospect from within Fischler's infrastructure. Fully trained in the "best practices" of student enrollment, Jose will follow up with prospective students and stay connected to that student from that student's initial contact through admission and only let that student loose once that student is fully enrolled (two weeks after the start of class) Talk to Jose  and he will tell you that his work as a student enrollment advisor is not complete until that student is fully enrolled.      Jose is also a member of the North Central Regional Team, Jane's "Student Success Team". Jose and Jane have spoken frequently over the months since the open house Mary threw several months ago. As is his practice, Jose kept Mary in the loop of each conversation. It was Jose that suggested to Mary that Jane was "ready for that coffee" in her neighborhood coffee shop.      Once Jane's application hits FAST, Jose will take the lead to shepard her through admissions and enrollment. Along the way he will call on Mary, as needed. He knows, too, that Jane has formed her own bonds with Mary; that Jane, too, will call upon her as needed. That, Jose, says to himself, "is what makes his team work". "Its all about Jane all of the time, for all of us"  
ACADEMIC ADVISOR
      Meet Jim and Wendy. They are two members of Fischler's academic advising team. From AA to EDD and all of the programs of study inbetween, they are the experts advising enrolled students on their path to graduation.       They haven't had any direct contact with Jane yet. But Jim has spoken to Mary and Jose about Jane as they teased out the right program of study for Jane. Jim is a member of the North Central Region Team, Jane's "Student Success Team" He knows he will be a major player on Jane's team down the road after she is accepted and enrolled. Jim will be Jane's academic coach. He'll guide her academic needs, semester after semester, from enrollment through graduation. But Jim knows success requires more than academic advising. Along his path with Jane he will call on Mary and others to give that "hands on" support they each provide so well. He knows, too, that he can turn to any Frontier person should that need develop.They will always be available to support Jane's "Student Success Team's" effort.  Jane may, not infrequently, seek some academic advise from other team members. Jim actually encourages that. He knows his team is well trained. Its all about collaboration and communication.    
FRONTIER PERSON
     This is Rebecca, but she might as easily be Shelley, John, Mel, Armando, Arthur, or Joan; any one of the Frontier People so appointed by Dr. Singleton. Frontiers are at the front line of the recruitment scene whenever and whereever an opportunity exists. You might even say the Frontier that makes the opportunity happen.      While our Frontiers work independent of any particular regional team they know they cannot work alone. When the opportunity is ripe a Frontier person knows he or she can turn to one of Fischler's regional teams to get the support he or she needs to "close the deal." The Frontier also knows he or she must stay in constant communication with the Regional Field Director to get that support when it is needed. So too, the Frontier knows that his or her talents are not exclusively his or her own; rather they are to be shared with all teams as needed.             
Project Manager from Marketing/SIGEAD/Professional Development