CLOUDS AND WHAT THEY'RE ALL ABOUT
by Taylor Herzer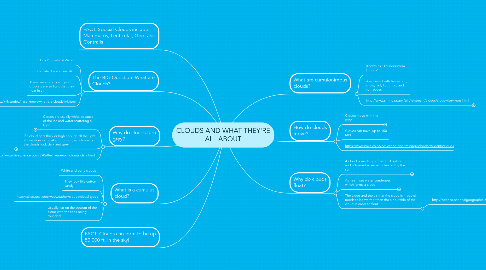 1. FACT: Special Clouds include: Mammatus, Lenticular, God, and Contrails
2. The BIG Question: What are Clouds?
2.1. Tiny Droplets of Water
2.2. Can also be ice crystals
2.3. These water and ice crystal droplets are so light that they float in air!
2.4. http://www.nasa.gov/audience/forstudents/k-4/stories/nasa-knows/what-are-clouds-k4.html
3. FACT: Clouds can form to be up 50,000 ft. in the sky!
4. What are cumulonimbus clouds?
4.1. Known as "Thunderstorm Clouds"
4.2. Associated with heavy rain, snow, hail, lightning, and tornadoes
4.3. http://www.srh.noaa.gov/srh/jetstream/clouds/cloudwise/types.html
4.3.1. Included
4.3.2. Included
4.3.3. Excluded
5. Why do clouds turn grey?
5.1. Clouds are usually white because of the ice and water scattering all light
5.1.1. Project specifications
5.1.2. End User requirements
5.1.3. Action points sign-off
5.2. If a cloud gets thick or high enough all the light above does not make it through, which is why the clouds look dark and grey
5.2.1. Define actions as necessary
5.3. http://www.livescience.com/39069-why-are-rain-clouds-dark.html
6. What is a cumulus cloud?
6.1. White and puffy clouds
6.2. They look like cotton candy
6.3. http://scied.ucar.edu/webweather/clouds/cloud-types
6.4. Usually flat on the bottom of the cloud with the tops being rounded
7. How do clouds move?
7.1. Clouds move with the wind
7.1.1. Materials
7.1.2. Personel
7.1.3. Services
7.1.4. Duration
7.2. Clouds can travel up to 100 MPH!
7.3. https://www.niwa.co.nz/education-and-training/schools/students/clouds
8. Why do clouds float?
8.1. A cloud is made up of water droplets and is formed when air is heated by the sun
8.1.1. Dependencies
8.1.2. Milestones
8.2. As heat rises water condenses which forms a cloud
8.2.1. Schedule
8.2.2. Budget
8.3. The cloud and the air that the cloud is made of needs to be warmer than the air outside of the cloud in order to float
8.3.1. http://science.nationalgeographic.com/science/earth/earths-atmosphere/clouds-article/