Chris Kennedy
by
Goran Kimovski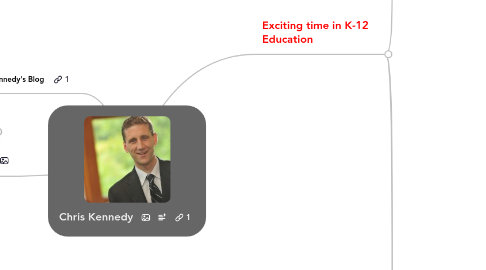 0.0
stars -
0
reviews range from
0
to
5
  Chris Kennedy is the incoming Superintendent of Schools with the West Vancouver School District. He has taught secondary English and Social Studies, and has been both an elementary and secondary school principal. Kennedy has been featured by Macleans Magazine as one of the 100 Young Canadians to Watch and his work has been featured in various local and national publications. Kennedy is a writer www.cultureofyes.ca and presenter on personalised learning and infusing technology in the classroom.Chris balances his life as the father of four children under the age of eight. You can also follow Chris on Twitter @ http://twitter.com/chrkennedy  
Legend
Use the + and - icons to expand/collapse nodes
Hover over the circle with lines to read attached notes
Well done!  
Exciting time in K-12 Education
Story of personalized learning
Not about what could, should or would be
something that we've done
Vancouver 2010 was amazing experience, The chance to engage kids in this amazing experience was not fulfilled, We created something called Students Live!, Absolutely transformational experience for all of us involved, Olympic reports done by students! CBCNews video, New node, Students go to press conferences and events to interview atletes and officials, Everyone gets a chance to ask questions and do recording of subjects that they find interesting, Hundreds of teens were following them on Twitter and Facebook - and learning from the experience!!, We started with an application proccess, We asked students to write blog posts and create videos to tell us what they think being a journalist should look like, 80 students applied!!, What we saw from this process was something really core!, Good writing really matters!!, Students who were really good with tech but failed on the writing and communications skills floundered on the process, We found that the majority of the students were on Facebook --few on Twitter, Youtube, etc. but Facebook seems to have been their major platform, Students never connected the power of the social media to build community, The live in Facebook in the same way they do in real life with their friends, We asked students to get to 1000 followers, The first day of the project we found that we need to build community face-to-face first and then extend that out online, Mobile technology was a game changer!, Those students with mobile devices were in great advantage!!, A mobile device gave the students a chance to interact in real time, Thoise students who were able to build a community were those who included video, NOT "mine is better than yours" BUT "yours can help make mine better" !, Students love the notion of being able to publish to a large audience, No going back, At the end, the students were frustrated going back to school
The real-worl learning is profound, The idea of building networks was new to students
Lessons for me as a teacher
It was very difficult, Intense, No defined time, technology doesn't gurantee success
Support from the community was key, Everyone we asked was very excited to help us, We engaged a small group of students, There is a great group of people out there that are really excited to get engaged with kids
The greatest experience for me as ateacher!
Key takeways
Talk less. Listen more.
Need to find ways to engage in real-world learning opportunities
Students see what's possible and they come back and say "I want more of this!"