Zachary Taffany's Pursuit Of Truth
by Zachary Taffany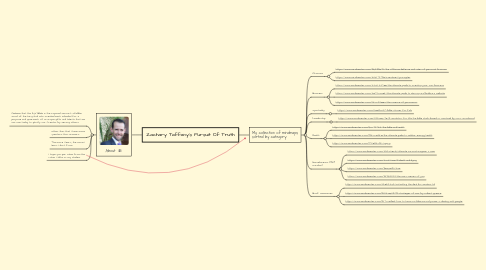 1. About
1.1. I believe that the KJV Bible is the inspired, inerrant, infallible word of the living God who created each individual for a purpose and gave each of us unique gifts and talents that we can use today to glorify our Creator by serving others.
1.2. Other than that I have more questions than answers.
1.3. The more I learn; the more I learn I don't know.
1.4. I hope you gain value from the notes I take on my studies.
2. My collection of mindmaps sorted by category
2.1. Finances
2.1.1. https://www.mindmeister.com/351633875/the-offense-defense-and-rules-of-personal-finances
2.1.2. https://www.mindmeister.com/451572738/investment-principles
2.2. Business
2.2.1. https://www.mindmeister.com/440544788/the-ultimate-guide-to-creating-your-own-business
2.2.2. https://www.mindmeister.com/487209985/the-ultimate-guide-to-planning-and-building-a-website
2.2.3. https://www.mindmeister.com/250022889/the-science-of-persuasion
2.3. Spirituality
2.3.1. https://www.mindmeister.com/588399217/bible-stories-for-kids
2.4. Leadership
2.4.1. https://www.mindmeister.com/266981078/13-resolution-for-life-the-bible-study-based-on-resolved-by-orrin-woodward
2.5. Health
2.5.1. https://www.mindmeister.com/310076755/the-bible-and-health
2.5.2. https://www.mindmeister.com/335008258/the-ultimate-guide-to-cellular-energy-health
2.5.3. https://www.mindmeister.com/372835035/qigong
2.6. Miscellaneous (AKA Random)
2.6.1. https://www.mindmeister.com/466948051/ultimate-survival-prepper-s-map
2.6.2. https://www.mindmeister.com/490549803/death-and-dying
2.6.3. https://www.mindmeister.com/318919834/love
2.6.4. https://www.mindmeister.com/353162262/the-many-pieces-of-you
2.7. Book Summaries
2.7.1. https://www.mindmeister.com/468624016/outwitting-the-devil-by-napoleon-hill
2.7.2. https://www.mindmeister.com/362598143/33-strategies-of-war-by-robert-greene
2.7.3. https://www.mindmeister.com/367008385/how-to-have-confidence-and-power-in-dealing-with-people