Choose 1 photography genre to explore to create your unified triptych or diptych. Click the link for some visual examples.
by Aimee Zvinakis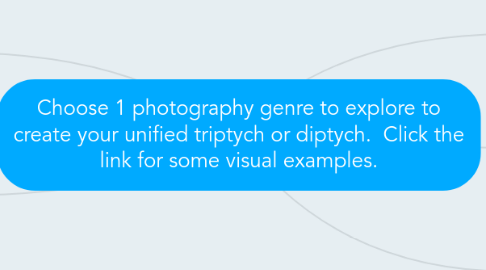 1. portrait photography
1.1. https://iso.500px.com/10-portrait-photographers-you-should-follow-right-now-on-500px/
1.2. Choose a person you know very well, or challenge yourself with a stranger who allows you to photograph him/her. Experiment with taking photos of this person's face as well as their other body parts, like feet and hands.
2. street photography
2.1. https://www.instagram.com/monaris_/
2.2. Spend a weekend morning or afternoon in downtown Beijing and photograph the life you witness around you.
3. lifestyle photography
3.1. http://gearpatrol.com/2015/03/23/best-adventure-instagram-accounts/
3.2. sports, friends hanging out, going shopping, holidaying etc.
4. cityscape/landscape
4.1. https://www.instagram.com/trashhand/
4.2. This is similar to street photography except you will be searching for vistas and viewpoints to really show the skyline of your city. Landscape photography would fit here as well.
5. food photography
5.1. https://www.instagram.com/sliceofpai/
5.2. https://www.instagram.com/marte_marie_forsberg/?hl=en
5.3. Do you love cooking, or eating out? This might be the genre for you. You will never see food the same way after photographing it with flattering lighting. Think of the styling you use as well, like plates, cutlery and napkins etc.