My Brand Map
by Crystal-lee Quibell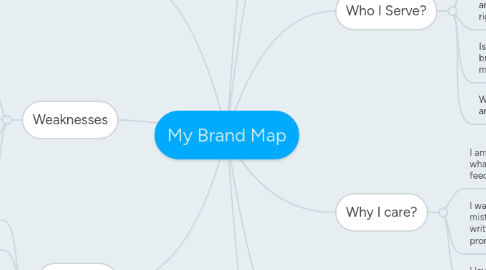 1. How Can I Help?
1.1. Bringing in a great variety of experts
1.2. Get People writing regularly
1.3. Help them get connected within the writing community for writing gigs, pitching their books etc..
1.4. Offer soul-fulfilling retreats with fantastic follow up and RESULTS. ie)get that book published!
1.5. Create a supportive and fun community that is engaged, reciprocal and magical.
1.6. Make everyone feel magical and inspired.
2. Unique Spin
2.1. Love to share tips most people won't.
2.2. I can teach how to outline, write, pitch, proposal and sell/publish with integrity.
2.3. This is more than a once a month check in writing group, this is a daily practice with expert advice, Q&A calls and highly interactive and engaged leader.
2.4. Creating a Magical writing practice that leads to published work.
3. Who I Serve?
3.1. Aspiring Writers and memoirists
3.2. People who write but need direction with what their next steps should be after the writing is finished.
3.3. The tired and frustrated creative looking for answers and support and a little push in the right direction.
3.4. Isolated writers looking for community and to build long lasting friendships with other magical beings.
3.5. Writers in search of how to build their platform and launch their book to raving fans.
4. Why I care?
4.1. I am so passionate about the arts and I know what it's like to create for years with no feedback, support or direction.
4.2. I want to help others avoid the expensive mistakes I made investing in the wrong editors, writing retreats and programs that had big promises and little delivery.
4.3. I love sharing what I've learned with others.
5. Who I LOVE working with (or who I want to work with)
5.1. People who believe in the magic of following your dreams and love a great book, a big cup of tea, and warm fuzzy socks.
5.2. Anyone who loves literature and wants to be a part of the literary community.
5.3. Witchy intuitive women/men that believe in the balance of light and dark.
5.4. Inspired and hopeful writers wanting to publish their first book and build a life-long author career.
6. Personality/Things I Like To Do?
6.1. I love reading memoirs.
6.2. Getting to know people, what makes them tick, why they love doing what they love, why they love who they love. I love stories and I tend to interview people I barely know because I enjoy finding out who they are.
6.3. I love retro pin-up vintage clothes/hair/make up/movies
6.4. FILM! Black and white, current, documentaries.
6.5. Witches/witchcraft
6.6. WRITING - specifically memoir and horror
6.7. I love movies like Practical Magic, The Witches of Eastwick, Eat, Pray, Love, WILD, Hector and The Search For Happiness. Shows like The Office, GIRLS, Game of Thrones.
7. Values/Beliefs
7.1. Make Everyone Feel Valued
7.2. Over-deliver/Surprise Content
7.3. Approachable/Kindness/Compassion
7.4. Create a sacred/safe community
7.5. Answer all questions/Always be Involved
8. Weaknesses
8.1. Procrastination
8.2. Time Management
8.3. Techie Stuff
8.3.1. Blunt
8.4. Blunt
9. Strengths
9.1. Great Teacher
9.2. Organized
9.3. Awesome Network (Good at Networking)
9.4. Attentive
9.5. Fun
9.6. Platform Building