Cross-cultural experimentation
by
Tommi Himberg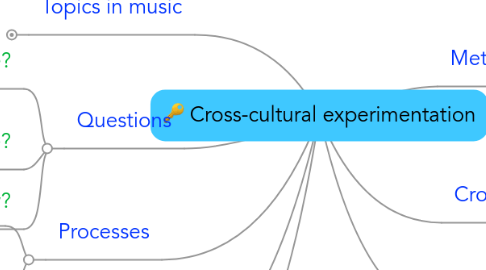 0.0
stars - reviews range from
0
to
5
Cross-cultural experimentation
Methods
Balanced designs
Convergent methodology
EMIC
ETIC
Topics in music
Perception
Production
Universality
Development
Questions
Nature or nurture?
so what if there's a difference?
so what if there's a similarity?
Processes
Biological adaptation
Cultural adaptation
Contexts
Ecological context
Socio-political context
Issues / problems
Differences in theoretical concepts
Number of variables that are different
Too many approaches, too few arrivals
Definition of music, definition of culture
Cross-cultural psychology
Definitions
Related disciplines
Issues
Aims
Framework
Reading material
Carterette, E.C. and Kendall, R.A. (1999). Comparative music perception and cognition. In D. Deutsch (ed.). The Psychology of Music. San Diego, CA: Academic Press. 725-791.
Balkwill, L.L. and Thompson, W.F. (1999). A cross-cultural investigation of the perception of emotion in music: Psychophysical and cultural cues. Music Perception, 17(1), 43-64.
Berry, J.W. and Poortinga, Y.H. and Pandey, J. (1997). Handbook of Cross-cultural Psychology: Theory and method. Boston, MA: Allyn & Bacon.
Ridley, M. (2003). Nature via nurture: Genes, experience, and what makes us human. London, UK: Harper & Collins.
Krumhansl, C.L., Toivanen, P., Eerola, T., Toiviainen, P., Järvinen, T. & Louhivuori, J. (2000). Cross-cultural music cognition: Cognitive methodology applied to North Sami yoiks. Cognition, 76(1), 13-58.
Fritz, T., Jentschke, S., Gosselin, N., Sammler, D., Peretz, I., Turner, R., Friederici, A.D. and Koelsch, S. (2009). Universal recognition of three basic emotions in music. Current Biology, 19(7), 573-576.