Lanie's mindmap.
by
Lani Mae F. Magno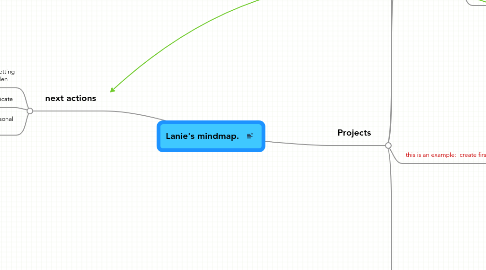 0.0
stars - reviews range from
0
to
5
Lanie's mindmap.
determine the projects (outcomes that need more than one action)   For every project determine the actions needed to get to the desired outcome   Under the node Next action just tranfer all the next actions you will have to do that day. Use your common sense to transfer the NEXT action required for every project. When you finish an action, delete it form the node and replace it with het new next action.
Projects
Getting things done
Read
Understand
Implement
second project
knew my responsibilties, my task and rules
Starting to be familiar with the website and work that I should performed, New node
Finally, to adopt the activities and enjoy doing it for career growth and with enthusiasm.
this is an example: create first article:
get an idea of what kind of articles to write on the sites
brainstorm topic ideas
do some research
create a log file to remember where to find information in the future
ask steeve if he has some links to send me
write first article
send article to steeve for review
put article in article spinner
find the right spots to post
post the articles
create a log to remember where we posted
send log to steeve
review reactions on articles
another example: A customer spotted a mistake in an article: answer customers question
read the mail
analyze the problem (is it worth fixing?, what should i do? )
fix the mistake in the article, rewrite article, repost it
send a mail to the customer
next actions
To read and apply the getting things done by David Allen
communicate
Begin my work being personal assistant